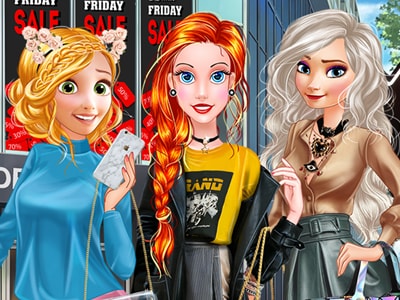 Playing Princesses Black Friday Rush on Prinxy
The story about Princesses Black Friday Rush
With only a couple of days left until the biggest sale of the year, the Disney princesses are getting ready to hit the malls in style. The shopping marathon begins tonight with an online shopping session, but as soon as the malls open, they are going offline shopping, too! They made big plans at the Thanksgiving dinner. Everything that's left for them to do is to decide on some comfy chic outfits for their shopping spree. Come and help them decide what to wear getting started with the Princesses Black Friday Rush game for girls!
Black Friday is an informal name for the Friday following Thanksgiving Day in the United States. The day after Thanksgiving has been regarded as the beginning of the United States Christmas shopping season, and it is marked by huge sales that only happen once a year. But unlike Thanksgiving that is mostly celebrated in the United States, Black Friday happens almost in the whole world. Even in the fantasy world, where Elsa, Ariel, and Rapunzel live. Our fashionistas couldn't skip the chance of updating their seasonal wardrobe with the latest fashion trends, especially now that everything is on sale. They are getting ready to go shopping all day long, and here is where your help is needed. Get started with the Princesses Black Friday Rush dress up game for girls and see what jaw-dropping looks you can put together for our trendy girls!
Since the day is going to be very long, we highly recommend you to build their outfits of the day around the shoes. In this princess game, you have many comfy but chic shoes available at your disposal. There are white sneakers, studded loafers, and even colorful Oxford shoes available in their wardrobe. Of course, you can also find an impressive selection of high heels if you feel crazy enough to recommend heels at shopping. So once the main decision is made, pick from the impressive selection of cool outfits and designer accessories your favorites! Hurry up! The Black Friday fun is about to begin!
Enjoy playing the Princesses Black Friday Rush game for girls online at Prinxy.app!
Game Controls
Use your mouse to interact.
Similar Games
Here are three more Shopping Games you should check out: