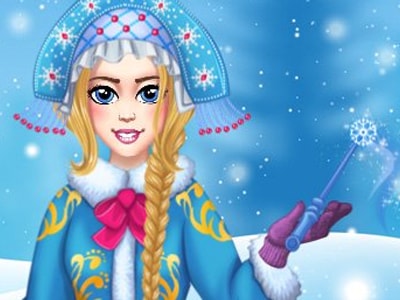 Playing Snegurochka Russian Ice Princess on Prinxy
The story about Snegurochka Russian Ice Princess
Discover a new fantasy character while playing online dress up games on Prinxy.app! This time we would like to introduce you to this beautiful snow maiden, also known as a Snegurochka in the Russian fairy tales. She is the granddaughter and helper of Father Frost, and during the New Year, she helps plan the parties for children. In this multileveled game for girls called Snegurochka Russian Ice Princess, you get to help our beautiful princess prepare for the New Year's celebration.
Are you ready to discover the first task she has prepared for you? The first level features a decoration game that you girls are going to love. Our Snegurochka lives in a gorgeous cottage near the forest, and her living room window perfectly frames the winter landscape outside. The view is absolutely breathtaking, and everything you need to do is to bring some warmth and coziness to her living room! Luckily, you have all the decorations you need at your disposal and can pick the ones you like the most. Decorate the wintery room with a gorgeous Christmas tree, colorful curtains, a fancy tea table, or a cozy sofa. Set the clock before midnight and then move to the second stage in this online holiday game for girls.
Next, you get to prove your make-up artist skills, too, as the second level in the Snegurochka Russian Ice Princess game brings a fun makeup game. Surprise our girl with lovely makeup made of cold eye shadow colors, pink blushes, and cherry-colored lips. Finish her makeup look with black mascara, and then don't forget to change the shape of her eyebrows for a completely new look. All the makeup products featured in this game come in six unique options. Check them all out and find something that will look great on her. Hit 'Done' when you're ready and go on to the third level of the game.
The third level brings a fun dress up game where you can choose a beautiful traditional Russian dress for our Snegurochka. To dress up our Ice Princess, go through her impressive selection of gorgeous dresses, fur-trimmed coats, gloves, and beaded kokoshniks. Mix and match your favorite items into a jaw-dropping festive look. That's it!
Have a great time playing the Snegurochka Russian Ice Princess game for girls online at Prinxy.app!
Game Controls
Use your mouse to interact.
Similar Games
Here are three more Princess Games you should play next: