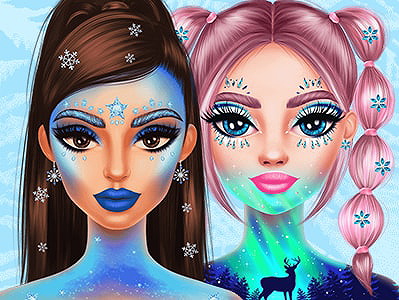 Playing Prinxy Winterella on Prinxy
The story about Prinxy Winterella
Now that the chilly days of winter are here to stay, we bring one good thing to look forward to winter makeup looks. Inspired by the colors that rule the snowy season, our brand-new Prinxy makeup game for girls brings a selection of sophisticated winter makeup looks that you are going to love. After you've done playing Prinxy Winterella, you'd want to upgrade your daily makeup look with some new additions that you can find in our game. Are you ready to get it started?
Be warned, the makeup options you are going to find in this online makeup game for girls are anything but ordinary. There is ice and frost, cold blue shades, grays, and a little bit of purple. There are sparkles, gems, and sophisticated face and neck designs that will help you complement your instagramable winter look. In Prinxy Winterella, we bring 3 frosty makeup looks, and step-by-step, you will learn how to recreate each of them. Are you ready to take a peek?
Let's dust off your vanity first and then get started with this brand new Prinxy exclusive winter game called Prinxy Winterella, where you are going to meet our three beautiful ladies featuring the game. You might not know them at all, but you should definitely get used to their faces! In this game, we have Kiki, Olivia, and Regina.
The first Clony girl you are going to beautify today is gorgeous Olivia. She's a makeup artist and Instagram influencer, and today she's sharing some of her makeup tips and tricks. Together with Olivia, you're creating a bejeweled blue makeup look, but not before you properly prepare her complexion for the sophisticated makeup session. Quickly apply the right toners and moisturizers on her face, and then be ready to discover the options prepared for Olivia's winterella makeup look. The eyeshadows come in a wide variety of blue shades that you can mix in various combinations. Then you can continue with your makeup task and apply some bits of glitter on her eyebrows, a coat of mascara, icy blush, and a bold lipstick shade. Don't miss Olivia's collection of face jewels, and pick some to complete her winter makeup look. Are you ready for some more? Join Regina next!
Regina is a stranger to the winter season, but she can't wait to try cold-colored makeup for the first time in her life. We prepared a snowflakes-inspired makeup look for our gorgeous Clony girls, and this time you get to put all your creativity to the test. Clean up her face first, and then apply a thin layer of foundation. Next, go through all the options we've prepared at your disposal in this second makeup unit, get creative, and see what frosty makeup look you can put together for our gorgeous girl here. Great job, ladies! Are you ready to discover Kiki's winter makeup look next?
The make-up prepared for Kiki's make-up session is one of the most complexes. It features stunning winter landscapes that cover most of her face. With deer, penguins, and enchanting nature corners beautifully covering her neck, with purple eye shadows and shimmering eyebrows, Kiki's makeup look can be as sophisticated as you want.
Do you like the looks you got so far? The fun is far from over. Now you are challenged to go back and mix each makeup as you wish. Capture a picture of your creation, and share it with your friends. Have a great time playing the Prinxy Winterella game for girls online at Prinxy.app!
Game Controls
Use your mouse to browse through all the options in this online game for girls.
If you like this game, you can also try other Beauty Games by Prinxy.app: