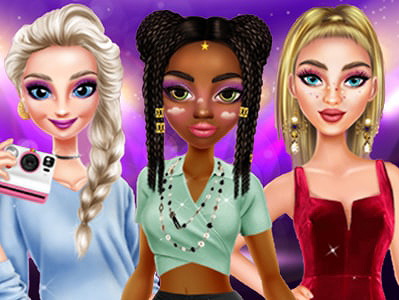 Playing K-Pop New Year's Concert 2 on Prinxy
The story about K-Pop New Year's Concert 2
Concerts on New Year's Eve are already a tradition here at Prinxy, and this year we are providing a one-of-a-kind experience. Are you ready for it? Inspired by the first game in the series and sprinkled with a brand-new selection of characters and clothing pieces, we bring the K-Pop New Year's Concert 2 dress-up game for girls that any fan of the BlackPink K-pop band has to play. Get ready to prove your stylist skills, ladies, while playing this winter holidays dress-up game for girls online at Prinxy.app!
But before stepping into the celebration, let me remind you where it all started. Do you ladies remember our original K-Pop New Year's Concert game? The game featured the famous k-pop boys' band BTS, and together with Anna, Moana, Maleficent, and Harley Quinn, you got to celebrate in style. This year, Times Square will be shaking again with agitation, and this time, four dashing ladies are going to steal the spotlights, and our BFFs could use your help to get ready for the concert of the year. Regina, Kiki, Bonnie, and Elsa have tickets to attend the BlackPink New Year's concert, and they just need you to deal with the right looks. Come and join them in getting started with the K-pop New Year's Concert 2 dress-up game for girls!
Hit play, and meet the lucky girls who are attending the BlackPink concert on New Year's! Then browse through their selection of BlackPink inspired outfits and prepare their looks as you continue playing this free fashion game for girls. You start this fashion challenge with two of your favorite Clony girls, Regina and Kiki. Effortlessly chic, this is what Regina wants to feel this New Year's, so loose denim pants, cropped blazers, and tweed dresses in lovely pastels are some of the clothing pieces you can choose for her. Browse through her wardrobe, mix and match your favorite clothes with pieces of jewelry, shoes, and makeup looks, and get her ready on time for the concert of the year. Then move on to the next page of the game and get cute girl Kiki a cool party outfit too! Kiki's inspiration for tonight's outfit comes from one of her favorite singers in the band. Just like Lisa, she also loves crop-tops, and that's what you are going to find in her wardrobe. Beautiful colors, playful patterns, and glossy fabrics are the main thing you're looking after in this online dress-up game for girls. When you've done picking the clothes, complete the chosen outfit with a cool makeup look too!
Are you ready for some more? Then how about helping Bonnie and Elsa look equally chic next? You're starting with your favorite fashionista. Bonnie dreams of perfection for the New Year's look, and matching sets are her thing. Plaid prints, uni, sequined, or covered in sparkling gems, she loves them all. The ones available in Bonnie's wardrobe are a mix of chic and sporty at the same time, girly and candy-colored, and you can even mix and match them with both high heels and sneakers. Dress her up in the ones you like the most, pick the winning one, and accessorize it with a designer bag and sparkling jewelry. Last but not least, you get to help Queen Elsa look at her best. In this fun princess game, Elsa's selection of holiday outfits is ruled by cozy knits and athleisure pieces. Do you think they could work well together? Mix them as you wish, and then finish Elsa's party look with a colorful makeup look.
Have a great time playing the K-Pop New Year's Concert 2 dress up game for girls online at Prinxy.app!
Game Controls
Use your mouse to browse through all the options in this online game for girls.
Here are three more New Years Games you should play next: