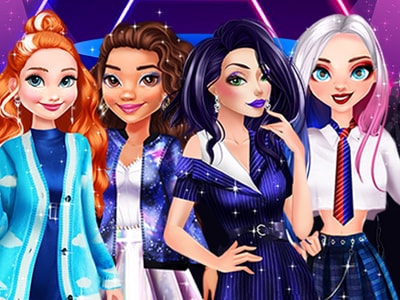 Playing K-pop New Year's Concert on Prinxy
The story about K-pop New Year's Concert
New Year's Eve at the center of New York City became a global tradition, and this year these BFFs are getting into its core to welcome the New Year in style. With a few hours before the end of the year, Times Square is shaking with agitation as something big is being prepared! Right after midnight, the most famous K-pop band of the moment is going to entertain the gathering with their cool songs, and these girls can't wait to see the BTS boys performing. They've got the tickets, and they just need the right looks, and here is where you can help them out! Get ready to prove your stylist skills, ladies, while playing the K-pop New Year's Concert dress up game for girls online at Prinxy.app!
Hit play, and meet the lucky girls who are attending the BTS concert on New Year's! Two of your favorite Disney princesses and two famous villains are willing to attend the concert, but there isn't enough room for two powerful forces to be in the same place. Or there is? We at Prinxy.app believe that on New Year's Eve, villains and princesses can be friends, and we imagined this cool holiday game where they welcome the New Year together. And what a better way than to bond at the concert of beloved K-pop sensation, BTS? So let's see what BTS inspired outfits you can put together for our girls as you continue playing this online dress up game for girls!
You're starting this fashion challenge with the princesses. Anna wants to wear all things cozy and chic this New Year's, so denim clothing pieces, oversized jumpers, knitted blazers, and lovely pastels are a must-have. Browse through her wardrobe, mix and match your favorite clothing pieces with the right pieces of jewelry, hairstyles, and makeup looks and get her ready on time for the concert of the year. Then move to the next page of the game and get princess Moana a cool party outfit too! Moana's inspiration for tonight's outfit comes from one of her favorite posters with the Bangtan Boys. The poster portraits the Korean boys all dressed up in galaxy-inspired clothing pieces, and that's what she's going to wear. Rainbow colors, galaxy patterns, satin, and glossy fabrics that's what you're looking after in this online princess game for girls. When you've done picking the clothes, complete the chosen outfit with a cool makeup look too!
Are you ready for some more? Then how about helping the villains look equally chic, next? The first in line to discover your styling skills is none other than Harley Quinn. Daddy's Lil Monster will give up her fishnet tights, red and white tank top, and too short pants and will replace them with chic school uniforms. You know she loves them! The ones available in Harley's wardrobe are a mix of chic and sporty at the same time, girly and candy-colored. Dress her up in the ones you like the most, pick the winning one, and accessorize it with BTS inspired jewelry and with Harley's signature hairstyle. Last but not least, you get to help Maleficent look at her best. Even though she came up with the idea of wearing clothes inspired by the Korean band, it was hard to convince her to change her long black dress and replace it with something different. Something like suits and shirt dresses, they would be the best option for her. There are some stylish options in her wardrobe, most of them feature neutral colors, masculine cut, elegant ruffled shirts. Find the best formal look for our latest girl in the gang!
Before rushing to the concert of the year, test your interior designer skills, and help the girls to decorate their rooms with posters of their favorite boys' band. There are many options available at your disposal in this online decoration game for girls, pick the ones you like the most. Next, set the mood, the lights, the decorations around the stage, and get the party started! Next, snap a picture of your creation, and share it with your friends!
Have a great time playing the K-pop New Year's Concert dress up game for girls online at Prinxy.app!
Game Controls
Use your mouse to interact.
Similar Games
Here are three more New Year Games you should play next: