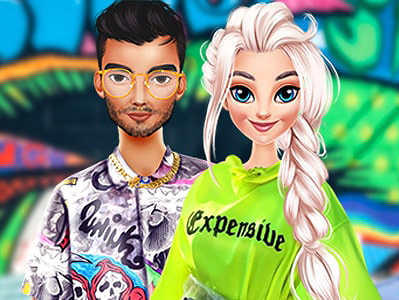 Playing TikTok Urban Outfits on Prinxy
The story about TikTok Urban Outfits
TikTok is a place to get inspired, and in this brand-new dress-up game for girls, we're discovering the latest fashion trends from the hottest social media app of our times. Join these four BFFs in the TikTok Urban Outfits dress-up game and take the TikTok fashion out on the streets.
So are you ready to take a look? Then let's join Kiki first. She will be teaching you how to wear the color block outfits. Kiki's addiction to intelligent casual color block outfits takes both of her office and casual looks out of the ordinary. In her wardrobe, you will find a mix of colors that will brighten up your day! Run your fingers through the wide variety of raw greens, baby blues, powdered pinks, and purples, mix and match them as you wish, and create a unique outfit for cute Kiki to rock today. Then match your selection with oversized earrings, a tiny bag, and a colorful makeup look.
Great job, ladies! Now let's hurry up and join Brian next. He has a witty mind, is fun, and loves shopping. Everything he wears is brand labeled, and of course, inspired by the latest fashion shows. Shorts and jeans rule his wardrobe; paired with oversized t-shirts, floral-printed shirts, or tank-tops, his outfits are boring. Feel free to dig through his wardrobe, and let's see what chic casual look you can put together for our TikTok influencer.
Are you ready for some more? Then continue playing our fashion game and join Queen Elsa next! She's a big fan of plaid skirts and knitted crop tops that come in a wide selection of pastel shades. Mix and match your favorites into a jaw-dropping casual outfit and then match your selection with a curly hairstyle, and girly-girl accessories.
Have a great time playing the TikTok Urban Outfits online at Prinxy.app!
Game Controls
Use your mouse to browse through all the options in this online game for girls.
If you like this game, you can also try other TikTok Games by Prinxy.app: