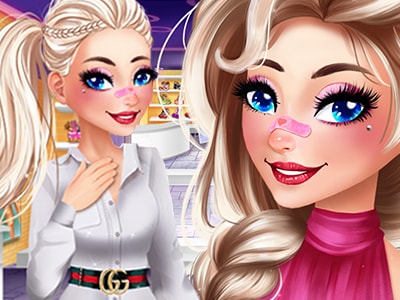 Playing TikTok Trends: Boyfriend Fashion on Prinxy
The story about TikTok Trends: Boyfriend Fashion
Elsa and Rapunzel are bored with their princess look, so they decide to take on a challenge received on TikTok. The girls are replacing their elegant dresses with ripped jeans and colorful sneakers, and you are invited to join the fun. In this online dress-up game for girls called TikTok Trends: Boyfriend Fashion, you go shopping with two of your favorite Disney princesses, and you help them pick the coolest boyfriend clothes and accessories available in stores. Are you ready to get started with their fashion transformation?
The boyfriend trend is all about wearing oversized clothes, and sometimes it involves discreetly removing items from your boyfriend's wardrobe and including them in your cool everyday outfits. Imagine long sweatshirts paired with cool boots, his white shirts transformed into summer dresses, your boy's hoodies paired with your favorite leggings, and his cool varsity jacket paired with your favorite flower printed dress. The boyfriend trend is so versatile, and it can easily take your looks out of the ordinary. Give it a try while shopping with Elsa and Rapunzel in this free-to-play dress-up game for girls!
The first princess you are going to style up today in our online fashion game is Queen Elsa. The boyfriend-inspired style she has in mind is a combination between a boyish look and a feminine vibe. So let's see what options you have at your disposal as you and Elsa enter one cool shop at the mall. There are boyfriend t-shirts and shirts that can work as comfy chic dresses, there are boyfriend jackets that can complement a feminine dress, and a selection of lovely crop tops that can match some sweatpants pulled out from a boyfriend's wardrobe. Have Elsa try on all the items you fancy the most, pick the winning outfit and match it with sneakers, boots, and golden chains or oversized sunnies. Don't stop here! Go to the next page of the game and try to give Elsa a colorful makeup look next. Use all your favorite products to create Elsa's makeup look, choose a playful hairstyle, and complete her cool new look with piercings of your choice!
Great job, ladies! The next princess in line to discover your amazing fashion skills in this free-to-play princess game for girls is gorgeous Rapunzel. She always wanted to wear boyfriend clothes, but they never seem a good fit. Today you can help her shop the latest fashion trends! The selection of boyfriend-inspired clothes available at your disposal in Rapunzel's favorite store is from a selection of comfortable but versatile materials at the same time. There are lots of sweat dresses and sweatpants to choose from, and you can literally pair your favorite with feminine accessories such as pink sunglasses, chains, and girly-girl hairstyles. Next, don't forget to prove your makeup artist skills, too!
Are you ladies prepared for some more? In the fifth level of this brand-new TikTok game for girls, you're preparing two hot beverages for our girls. Their shopping session wouldn't be complete without a quick stop at their favorite coffee shop. Prepare a latte and bubble tea in this fun decoration game for girls!
When you're done, save your creation and share it with your friends too! Have a great time playing the TikTok Trends: Boyfriend Fashion game for girls online at Prinxy.app!
Game Controls
Use your mouse to browse through all the options in this online game for girls.
If you like this game, you can also try other TikTok Games by Prinxy.app: