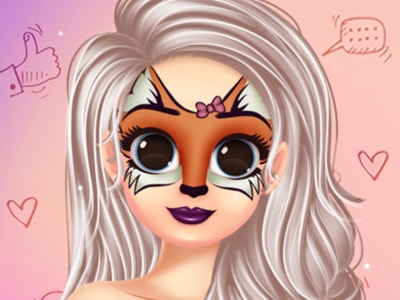 Playing Princess Makeover Fashion Blog on Prinxy
The story about Princess Makeover Fashion Blog
The Frozen Sisters have one of the most popular fashion blogs that ever existed. All the princesses living in the fantasy world keep up with their latest fashion posts, and right at this moment, they are getting ready to deal with today's latest article. As always, they want to impress with their looks, so they asked you to join them behind the cameras and to help them create daring looks. In the Princess Makeover Fashion Blog game, you help your favorite Disney princesses prepare all the details for their next photo session. Are you ladies ready to get started with this free to play makeover game for girls that you can play online at Prinxy.app?
Elsa and Anna want to surprise their readers with a fantasy look today, and their idea is surely going to challenge your makeup artist skills a bit. Are you ready to prove your painter skills as you cover their face in jaw-dropping elaborated face designs? Then feel free to join them in getting started with this free makeup game and check out all your options in terms of face designs. The impressive selection of face designs featured in this game is unique, colorful, and super cute. Along with butterfly wings, you can also find some sweet cubs designs and even superhero face art designs. Luckily, from each category, you can pick your favorite design for each princess. Then complete their face designs with bold lipstick, and with new hairstyles.
Next, they could use your expert advice in choosing the winning outfits. In their royal wardrobe, you can find both elegant dresses and youthful two-piece outfits. While playing this online dress up game for girls, you can have the two princesses try a few looks before picking the final outfits. Accessorize the winning outfits with sparkling pieces of jewelry, and don't forget to snap a picture of your creation.
Have a great time playing the Princess Makeover Fashion Blog game for girls online at Prinxy.app!
Game Controls
Use your mouse to interact.
Similar Games
Here are three more Princess Games you should play next: