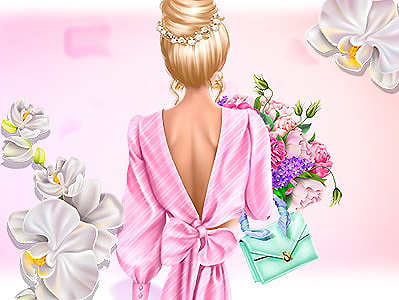 Playing Summer Floral Prints on Prinxy
The story about Summer Floral Prints
Join us on Prinxy.app and get ready to discover the hottest summer trend floral print! The floral print returns to fashion every year in the warm season, and this time we approached it in a playful way that is meant to embrace the joy and romance of the summer season. Play this online dress-up game for girls to find it out more!
In the Summer Floral Prints Dress Up Game, we gathered 5 of your favorite Disney princesses, we brought some of the most delicate pressed floral patterns and placed them on pants, mini-dresses, skirts, accessories, and everything else where we could put a flower on. What else? Oh yes, beautiful and colorful flowers are also placed on simple backgrounds completing the natural feel for this summer-themed fashion game. Are you ladies ready to take a look?
Hit the play button, and be prepared to be amazed By Queen Elsa's colorful summer wardrobe. Elsa is so into prints this summer, and her challenge for you is to put together floral and Aztec prints in jaw-dropping fashion looks. Can you handle this fashion task? Go through all the options available at your disposal, and pick the perfect outfit of the day. Then browse through the wide selection of accessories as well, and choose the ones you like the most to complete the princesses chic look. Earrings, bracelets, rattan bags, straw hats, and flower crowns are some of the options available in this dress-up game for girls. Great job, ladies! Are you ready for more?
Then get ready to discover Esmeralda's beautiful selection of floral prints. Gorgeous dresses, ruffled tops, flowy midi skirts, and golden pieces of jewelry are some of the things that you can find in Esmeralda's summer wardrobe. But be aware, ladies! Dressing up Esmeralda is quite a challenge because of the mix of prints she prefers. Can you imagine an amazing combination of stripes and flowers? Mix and match her favorite prints as you wish, and create a playful summer look for our talented dancer. Then complete it with a wavy hairstyle.
Moana is the next one to bring her summer wardrobe on display in our princess game. Her summer clothing pieces and accessories are some of the most colorful you've ever seen. In this online dress-up game for girls, bright colors, tropical prints, and lightweight materials that look great on her sun-kissed skin rule Moana's wardrobe, and you can decide what she should wear today. Browse through her collection of flowy dresses, cropped tops, and shorts, and pick the winning outfit to dress her up. Make sure to complete Moana's look with a new hairstyle, oversized earrings, and chic sunnies. Well done, ladies!
Hope you girls are ready for the next fashion challenge! Here comes Princess Anna for her own styling session. Her selection of clothes is harder to integrate into the common summer fashion feel, but you are going to love dealing with Anna's fashion challenge. Unlike the other princesses you've dressed up so far, Princess Anna prefers more earthy colors to her summer clothes. In this fashion game, floral prints are placed on nude, green, and different tones of brown, and oh boy, this is one wardrobe you should definitely see! It challenges all your fashion senses, and with a little patience, you will be able to create an amazing outfit for your favorite Frozen sister! Don't forget to finish her look with the right accessories and a new hairstyle!
Last but not least, you get to help princess Mulan choose her outfit for the day. Floral prints are always present on traditional Chinese outfits, and we could not finish this dress-up game without showing you Mulan's collection of traditional outfits with a modern twist. We are sure you are going to love them! Browse through Mulan's summer wardrobe, have her try on the clothing pieces you like the most, and then pick the winning ones. Next, see how you can accessorize them with embroidered purses, statement jewelry, and vintage hand fans.
Have a great time playing the Summer Floral Prints game for girls online at Prinxy.app!
Game Controls
Use your mouse to browse through all the options in this online game for girls.
If you like this game, you can also try other Summer Games by Prinxy.app: