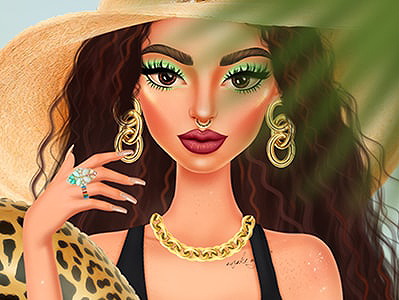 Playing Glamour #BeachLife on Prinxy
The story about Glamour #BeachLife
From girly-girl casual looks to glamorous beach parties, chic swimwear is taking over, and we girls are here to turn them into jaw-dropping summer looks. Are you ready to rock this summer? Our girl Olivia is here to teach you some of their tips and tricks, so start the Glamour #BeachLife dress-up game for girls, and see how you can wear cute swimsuits all day long!
Are you ready to get your summer started? First, Olivia will teach you how to integrate your colorful swimsuits into your casual looks. She is all about a brightly colored wardrobe for the summer. She has everything from swimsuits to cute color-blocked tops, ruffled dresses, and more! In Olivia's wardrobe, you will find a great selection of crocheted halter bikini tops that you can match with denim shorts, ruffled tops that you can wear with linen flared pants, knotted t-shirts, and a-line silk skirts. And that's not all! She also has an impressive selection of summer dresses in bright green, mango, and floral prints. After this inspiring fashion journey with Olivia, accessorize the final outfit with sunnies, jewelry, and a cute little purse. Now it's time for some more fashion fun!
Next, as you continue our fashion game for girls, we're digging more through Olivia's stunning selection of fashionable beach wear. Wait to see what she's hiding in it! From strappy swimwear available in many bright colors to ruffled bikinis and cute crocket swimming suits that are so in trend this summer season, you can come up with any mix you want. Then don't forget to peek through her selection of one-piece bathing suits, too. Cut-outs make the coolest bathing suits on the planet, but one-shoulder bathing suits are also with checking out. Complete Olivia's beach looks with an oversized straw hat, sunnies, and beach-inspired jewelry. Are you ready to continue your journey with a new dress-up challenge?
Beach parties are always fun, and this time, the glamorous Olivia is the queen of it. Help her pick a cute outfit for this gathering on the beach and then dress it up with accessories like earrings, necklaces, and sunglasses to make her look more exquisite. Matching sets made of leather, sequins, or lace are one good option for a party on the beach, but there are also some chic dresses that you won't want to miss out on. Check all of her clothes and accessories available in Olivia's party wardrobe and pick the winning look.
Last but not least, advise her on the right makeup look. Go ahead, discover the latest unit of this amazing makeup game for girls, and test your makeup artist skills next. Open her makeup kit and play with the brightly colored eyeshadow, glossy lipstick, and natural blush options, and create a glowing makeup look to go with all the outfits you've picked for her today!
Have a great time playing the Glamour #BeachLife dress-up game online at Prinxy.app!
Game Controls
Use your mouse to browse through all the options in this online game for girls.
If you like this game, you can also try other Seasonal Games by Prinxy.app: