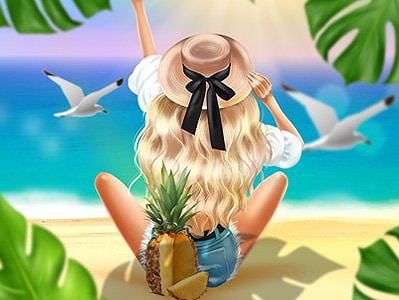 Playing Summer Aesthetics on Prinxy
The story about Summer Aesthetics
Summer is here, and these 5 BFFs are already enjoying it in style with amazing trips around the world! This year, each of them picked a unique destination for the summer holiday, but they keep themselves updated by sending each other lots of pictures. By the end of the summer, they will have made an album with the most beautiful places they visited during this long-awaited summer vacation. They can call it Summer Aesthetics and, with your help, they will populate it with spectacular sceneries, jaw-dropping summer outfits, yummy cold drinks, and #goodvibesonly. Join them in, and get ready to discover the most beautiful colors of summer in this free-to-play dress-up game for girls.
Summer is the favorite season of many, and our girls are huge fans of it. They usually spend their vacation period exploring wild beaches, attending the coolest pool parties, or reliving their childhood with a visit to their grandparents. It's what helps them recharge, and there's nothing else that can compete with a few weeks of carefree and cheerful days under the sun. Moana, Merida, Belle, Aurora, and their best friend Emma, are the girls inviting you to discover their favorite travel destinations on summer vacation while playing the Summer Aesthetics Dress Up Game for girls online at Prinxy.app!
Your first stop in our online dress-up game, amazing Italy! Here you join gorgeous Emma for a picnic in a lemon garden. She found this gorgeous corner of heaven hidden on the Amalfi Coast, and she's lucky to enjoy a private picnic here. Just the two of you, the lemon scent and the merry chirping of birds. Let's see what she should wear for this occasion. Emma's summer wardrobe is ruled by floral prints this year, and you get to choose her outfit of the day from a wide selection of off the shoulders dresses, spaghetti straps tops, and lovely skirts. Complete her final look with a curly hairstyle and jewelry of your choice. Great job, ladies! Hopp on a plane and get ready to meet Princess Moana next!
Princess Moana traveled to Bali for the summer holiday, and here she's going to enjoy a timeless island lifestyle. Will you help her look great for today's photoshoot? It is going to take place in the middle of a jungle, how cool is that? Check out Moana's summerish wardrobe, have her try on all the outfits you like the most, and pick one to help her stand out while surrounded by the green nature and brightly colored birds. Are you ready for your next destination? Our princess game is going to take you to London next, where you and Merida are going to discover one of the most beautiful streets in the city! Notting Hill is in full bloom, and Merida plans to snap the pictures she's going to put in the Summer Aesthetics album. But what should she wear? Pink and purple shades rule the scenery, and something red or something blue will help her to stand out. Are you ready for some more?
Our summer-themed game wouldn't be complete without a trip to Aurora's grandparents! Barefoot in the garden flooded by a perfect golden hour, you and Aurora are going to have the best time ever. Run your fingers through her fashionable wardrobe inspired by the Cottagecore aesthetics and see what lovely outfit you can pick for Aurora's backyard photo session. Last but not least, you're invited to join beautiful Belle to Greece. Dressing up Belle in a jaw-dropping bathing suit is the last challenge you have to complete in our free-to-play fashion game for girls! Finally, save your creation and share it with your friends!
Have a great time playing the Summer Aesthetics game for girls online at Prinxy.app!
Game Controls
Use your mouse to browse through all the options in this online game for girls.
If you like this game, you can also try other Summer Games by Prinxy.app: