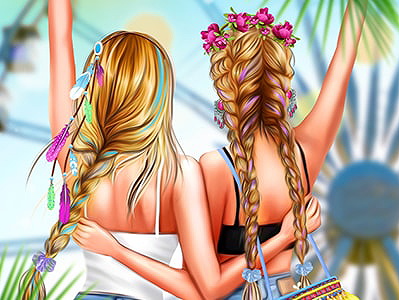 Playing Summer Festivals Fashion on Prinxy
The story about Summer Festivals Fashion
Summer is almost over now, but we couldn't let it go without one last party! So get your comfy shoes ready because our girls are going to take you on a festival tour that you are going to love! Join them in this amazing dress-up game for girls called Summer Festivals Fashion and see what stunning festival looks you can put together for them as you browse through their unique selection of party clothing and accessory items!
The first stop is the fantasyland at Tomorrowland. Anna and Rapunzel are getting their outfits ready for this popular electronic music festival, and you are invited to help them prepare. For that, feel free to get started with our Prinxy exclusive game Summer Festivals Fashion, and see what jaw-dropping festival looks you can put together for them. The first in line to get dressed for the dancing marathon in Princess Rapunzel. Surrounded by huge mushrooms and friendly dragon figurines, your favorite long-haired princess is so eager to find the right festival dress. Don't keep her waiting any longer, and start browsing through the wide selection of fantasy-like dresses and fairy wings, mix and match them and get her ready to party. Then go on, and find something equally chic for her party friend, too! In our dress-up game, Anna's selection of festival dresses comes in a wide range of styles, and you can dress her up in all of them before picking your favorite. Don't forget to accessorize it with a cool hairstyle and statement jewelry! Great jobs, ladies! Are you ready for the next festival?
Then hurry up and join our gorgeous girl Emma and Ariana Grande at the Coachella festival. The music is on, and the atmosphere around them is great. They need your help to choose their party looks, so can you get them party-ready in no time? The BFFs have decided to flaunt some of their boho-chic outfits this year, and you can help them choose the winning looks. Go through their selection of tops adorned with playful prints, fringed skirts, and floral printed dresses and create a cute outfit for each girl. Then style up their hair, and complete their festival looks with some of the cutest accessories. Can you guess where you're heading next?
Princesses Elsa and Belle are going to take you to the Burning Man festival, and you girls are going to love the wardrobes we've prepared for them. Leather and plastic outfits with a hint of holographic and cyberpunk accessories will look great styled up in jaw-dropping festival outfits, so don't skip this fun chance of playing with these not-so-common clothing pieces and accessories. Be ready to prove your skills as you continue playing this free-to-play fashion game online at Prinxy.app! Go through them all, and then mix and match your favorites in statement festival looks. Complete your choices with playful hairstyles.
Have a great time playing the Summer Festivals Fashion game for girls online at Prinxy.app!
Game Controls
Use your mouse to browse through all the options in this online game for girls.
If you like this game, you can also try other Festival Games by Prinxy.app: