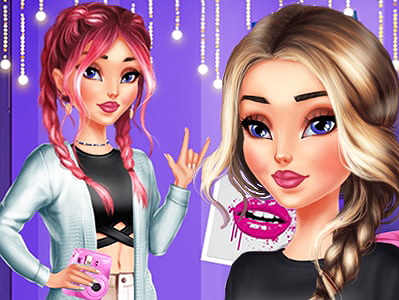 Playing TikTok VSCO Girls on Prinxy
The story about TikTok VSCO Girls
The TikTok VSCO Girls game comes to complete our exclusive series of free-to-play TikTok Games, and you ladies are going to love it! It tells the story of two BFFs who decided to try on a colorful fashion trend that is quite popular on TikTok these days. And you girls are invited to help them out. Play the TikTok VSCO Girls dress-up game for girls online at Prinxy.app, and turn these BFFs into real-life VSCO girls!
But before getting started with this total transformation challenge, let's meet our girls. One of them is the gorgeous Arya. She is a rebel at heart, a fan of rock music, and she loves gothic fashion. In her wardrobe, you can find clothes in black, leather, and metallic accents, but for her total transformation, we've prepared a girly girl wardrobe ruled by nude shades, black and white. The second girl is Violet. She is one beautiful geeky girl who is willing to step out of her comfort zone and surprise everyone with a jaw-dropping look. She's getting a brand-new pastel wardrobe in this dress-up game for girls. So are you ready to get started with our exclusive fashion game for girls?
The first one to discover your amazing styling skills is our rock girl Arya. You can start the transformation process by dealing with her makeup look. VSCO girls prefer traditional makeup, which includes little foundation, eyeliner, mascara, and natural shades of lipstick. In our VSCO makeup game, we've prepared a selection of nine unique shades for each category listed above, and the good news is that you can mix them as you wish. Once you've done expressing your makeup artist skills, you can go on and choose Arya's outfit next. Look through the impressive selection of crop tops, shorts, jogger pants, denim jackets, and hoodies and create a stunning outfit for our cute VSCO girl. Are you ready for more?
Then let's see what VSCO looks you can create for our adorable geeky girl. After you've created a glowing makeup look for our Violet, you can then go to the next level of this fashion game and look through Violet's new wardrobe, too! Pastel colors, clothes in tie-dye, denim pieces, an impressive selection of hydro flasks, and colorful seashell accessories rule Violet's new VSCO wardrobe. Browse through them all, and create your own version of a pastel outfit for beautiful Violet. To complete Violet's new look, select a pair of Vans to match and a new hairstyle.
Next, capture a picture of your creation, and share it with your friends. Have a great time playing the TikTok VSCO Girls game for girls online at Prinxy.app!
Game Controls
Use your mouse to browse through all the options in this online game for girls.
If you like this game, you can also try other TikTok Games by Prinxy.app: