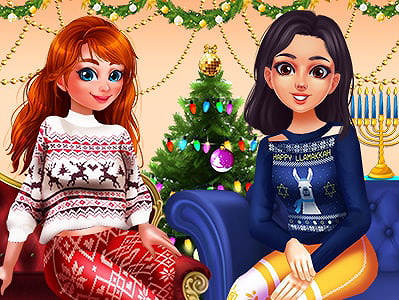 Playing BFFs Winter Holidays on Prinxy
The story about BFFs Winter Holidays
Get into the winter holidays together with these two BFFs! Anna and Catherine are getting ready to celebrate the winter holidays together with their families, and you ladies are invited to join the fun! In the BFFs Winter Holidays game for girls, you help Anna share with her friend the traditional Christmas customs her family follows, and from Catherine, you get to learn more things about Hanukkah!
Since Christmas and Hanukkah fall around the same time, this year we at Prinxy.app decided to surprise you ladies with this amazing dress up and decoration game that covers traditions of these two winter holidays. While Christmas is celebrated on December 25 and is both a sacred religious holiday and a worldwide cultural and commercial phenomenon, Hanukkah starts on the eve of the Kislev 25. In the Jewish calendar, Kislev occurs at about the same time as December. This Jewish celebration includes a series of rituals that are performed every day throughout the eight-day holiday. So are you ready to dig for more?
Then let's start the fun with a dress up game! First, you're going to help Anna find the perfect Christmas outfit. Ugly sweaters, reindeer slippers, leggings, and dresses with snowflake patterns are Anna's choices for the winter holidays. Mix and match your favorite clothing pieces and find the perfect Christmassy look for our girl. Then don't miss your chance of browsing through Catherine's wardrobe as well. Although the Jewish holiday of Hanukkah doesn't have a traditional outfit, Catherine owns a special selection of star-printed sweaters, slippers adorned with dreidels, leggings, and dresses with menorahs that she loves to wear during the festive week of the Jewish Festival of Lights. Help her put together her holiday-themed outfit as well.
Great job so far, ladies! Now let's help these girls decorate their homes for the winter holidays. With Anna, you're decorating a gorgeous Christmas tree and the fireplace, making sure her living room is fully decorated for Christmas. With Catherine, you're going to learn how Jewish decorate their homes for the holiday of Hanukkah. So go on and hang on garland ornaments on the wall, next help Catherine choose some presents for her family, and then decide on a fancy menorah. The Hanukkah menorah is a nine-branched candelabrum lit during the holiday to celebrate the miracle of Hanukkah, and it should light Catherine's living room during the holiday season.
No winter holiday preparation wouldn't be complete without a little bit of baking, so be prepared to show off your cooking skills next. Anna's mom baked her yummy gingerbread cookies, and as always, Anna is in charge of decorating them. Together you can decide on their festive looks as you play with colorful icings, sprinkles, and funky face options. Catherine also has a delicious recipe, and she can't wait to share it with you. Together with Catherine, you are going to make some delicious sufganiyot doughnuts. Test your pastry skills again, and decorate these yummy doughnuts as colorful as you can.
Have a great time playing this holiday game for girls called BFFs Winter Holidays online at Prinxy.app!
Game Controls
Use your mouse to interact.
Similar Games
Here are three more Christmas Games you should play next: