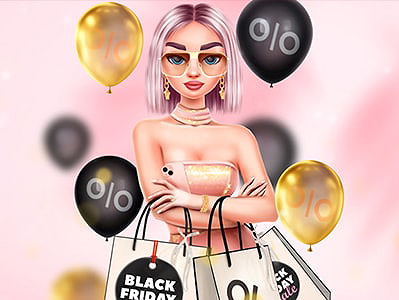 Playing BFFs Black Friday Shopping on Prinxy
The story about BFFs Black Friday Shopping
Brian and the girls are heading to the mall for a fun shopping spree on Black Friday, and you girls should join the shopaholics. They are going to shop till they drop, but before that, they are having a private fashion show right in Biran's dressing room. Hurry up and join the fun getting started with the BFFs Black Friday Shopping dress-up game for girls online at Prinxy.app
But first, let's meet the gang. In this online fashion game, you will find 4 of our Clony Girls and Queen Elsa. Kiki and Riri, the girls from the Halloween Makeup Trends game, are eager to spend some time with you again. Next, you can join Bonnie for a fun dress-up session, Brian our handsome LGBTQ representative, and Queen Elsa, who decided to join the gang for a long session of shopping. So, are you ready to kick off the private fashion show? Kiki, our famous TikTok influencer, is the first in line to discover your amazing fashion skills, and you ladies are going to love her colorful wardrobe. She is into color blocks this fall season, and in Kiki's wardrobe, you are going to find everything you need to help her stand out from the crowd. There are striped dresses, crop tops, and loose pants available at your disposal in their wardrobe. There are designer shoes and electric accessories that will perfectly complete Kiki's colorful style.
Are you ready for some more, ladies? Then let's check out Elsa's wardrobe as you continue playing our brand-new princess game for girls. Comfy and chic knits rule her wardrobe, and you can mix them as you wish. You can pair a fluffy blouse with a pair of jeans, a cozy knitted blouse with a pair of paper bag pants, or you can pick a knitted dress or a knitted two-piece set to dress her up for the day. Then you could complete her shopping look with a stunning makeup look in shades of blue or pink. Finally, you are going to meet Brian next. Brian is the kind of man who could be any girl's best friend. He has a witty mind, he is fun, and he loves shopping. Everything he wears is brand labeled, and of course, inspired by the latest fashion shows. Feel free to dig through his wardrobe, and let's see what chic casual look you can put together for our shopping addict.
Continue playing our exclusive dress-up game for girls called BFFs Black Friday Shopping, and get Riri ready to join her friends in this fun shopping experience they have planned for this year. Riri picked plaid as signature items for her fall outfits, and your challenge is to properly accessorize the winning outfit with the right checkered accessories. Then don't forget to also do Riri's makeup look before rushing to rummage through Bonnie's wardrobe. Glam her up in stunning sequins, or go for bohemian florals for our fashion addict. Pick a pair of golden earrings for our fashionista, a pair of designer sunnies, and an electric makeup look for a modern shopping look.
Have a great time playing the BFFs Black Friday Shopping game for girls online at Prinxy.app!
Game Controls
Use your mouse to browse through all the options in this online game for girls.
If you like this game, you can also try other Shopping Games by Prinxy.app: