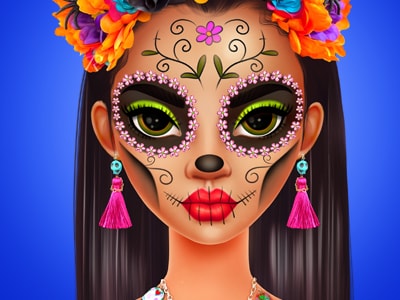 Playing Halloween Makeup Trends on Prinxy
The story about Halloween Makeup Trends
Halloween is almost here, and some of our favorite TikTok influencers have been working their makeup artist skills in achieving the most jaw-dropping Halloween makeup looks. We've gathered three of the best makeup ideas in our free-to-play holiday game for girls called Halloween Makeup Trends! From #unicorncore to #fairycore, you can find some of the trendiest Halloween aesthetics in our game. Play it today!
Be warned, this year, Halloween is going to be huge. With all the spooky parties canceled last year, this year, the fashionistas can't wait to steal the spotlights with elaborate, out-of-this-world Halloween costumes. So, if you don't feel quite prepared to rock the upcoming Halloween party, then stick with us. In the Halloween Makeup Trends game for girls, we bring 3 Halloween makeup looks, and step by step, you are going to learn how to recreate each of them. Are you ready to take a peek?
Then let's get started with this brand new Prinxy exclusive Halloween game called Halloween Makeup Trends, and be prepared to meet our three beautiful ladies featuring the game. You might not know them at all, but you should definitely get used to their faces! Kiki, Riri and Regina are three of our beautiful Clony girls, and they are here to steal the spotlight. Clony is our fashionable avatar maker, and you can get it on Google Play. Get it today, create your digital self, and use your new avatar everywhere on the internet!
The first Clony girl you are going to meet is gorgeous Kiki. She is TikTok famous, and a self-produced teen artist with a huge passion for #unicorncore. So, if you too are in love with the unicorn aesthetics and its colorful and playful vibes, then Kiki's Halloween makeup look is the one for you. Quickly prepare her face with toners and moisturizers, and then be ready to discover the options prepared for Kiki's unicorn Halloween makeup look. The eyeshadows come in a wide variety of beautiful pastel colors that you can mix in various combinations. Then you can continue with your makeup task and apply some bits of glitter on her eyes, a coat of mascara, blush, and a bold lipstick shade. Don't miss Kiki's collection of sparkling gems, and pick some to complete her Halloween makeup look. Are you ready to meet Riri next?
Riri is the second Clony girl in our game, and she's a super talented singer with a gorgeous look you are going to love. For this year's Halloween, she decided to go for a daring Dia de los Muertos makeup look which features dark colors, bony face features, some sophisticated jewelry pieces, and hair accessories that mixed together will create a jaw-dropping Halloween look. Go through all the options we've prepared at your disposal in this second makeup unit, get creative, and see what spooky Halloween look you can help gorgeous Riri flaunt at the party.
Do you still need some more inspiration? Then don't miss the third makeup look we've featured in the Halloween Makeup Trends game for girls! It's from the #fairycore aesthetics, and it features Regina. She's our third girl featured in this online makeup series, a straight As student with a wild temper. Her Halloween makeup is inspired by the world of fairies. With flower garlands covering her face and neck, with glittering eyeshadow, and sparkling gems, Regina's makeup look can be as sophisticated as you want!
Do you like the looks you got so far? The fun is far from over. Now you are challenged to go back and mix each makeup as you wish. Capture a picture of your creation, and share it with your friends. Have a great time playing the Halloween Makeup Trends game for girls online at Prinxy.app!
Game Controls
Use your mouse to browse through all the options in this online game for girls.
If you like this game, you can also try other Halloween Games by Prinxy.app: