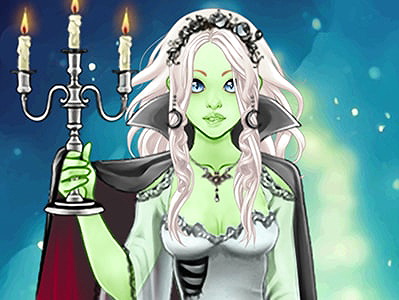 Playing Scary Lily Halloween Dress Up Game on Prinxy
The story about Scary Lily Halloween Dress Up Game
It's Halloween night, and gorgeous Lily needs to find herself a costume for the spooky party she's getting ready to attend. There are so many options available in her wardrobe. Can you help her pick the best Halloween costume? Get started with the Scary Lily Halloween Dress Up Game for girls and see what scary cute look you can put together for her!
This Halloween-themed dress up game for girls is a classic doll maker game revamped to the needs of 2020. This time, you can play the Scary Lily Halloween Dress Up Game on a computer, on a smartphone, and even on a tablet. How cool is that? In it, you are going to mix many signature category tabs of the popular doll-maker games, such as the hairstyle building option, face customisation, skin shades, the outfit crafting option, and many other categories that you can discover while advancing your way in this fun game. But first thing first, let's choose a nice skin tone for our girl. Given it's a Halloween Game, you can go as crazy as you want, choose a bright green, a baby blue, or even a sweet candy-pink skin color for gorgeous Lily. Beige or dark brown skin shades are also available, so you can keep it classic if you wish.
Next, select the shape of her eyes, mouth, nose, and eyebrows. Then mix and match hairstyles and colors for a spooktacular look. After you have finished choosing the details of the physical appearance, you can continue by searching for the best Halloween costume for cute Lily. The theme of the party is scary, and that means you can go as crazy as you want with her Halloween look.
Among the options you have at your disposal in this game for girls you can find a ragged witch dress, a messy wedding dress for a real corpse bride look, a bandage costume for a mummy look, a devil latex costume, and even more. Choose from a wide selection of pre-made classics, or craft your own fashionable creation by simply mixing and matching the different parts in jaw-dropping spooky looks. Don't forget that you can also change the colors of the clothing pieces you choose to use on Lily. In addition to dresses, you can also find independent-clothing items such as tops and skirts, cosets, and capes. Accessorize Lily's scary Halloween look with witch tall hats, eye patches, crowns with spikes, earrings, and necklaces of your choice.
Place Lily in a spooky background for a more dramatic look, or take her to treat or treating through the neighborhood. Have a great time playing the Scary Lily dress up game online at Prinxy.app!
Game Controls
Use your mouse to interact.
Similar Games
Here are three more FREE Halloween Games you should check out: