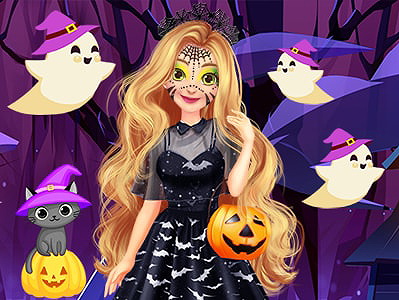 Playing Halloween In The Enchanted Forest on Prinxy
The story about Halloween In The Enchanted Forest
Halloween is almost here, and this year we made sure you are going to celebrate it differently. Princess Rapunzel challenged you to live together with her for a full Halloween experience. Are you brave enough to venture into the enchanted forest together with her on one of the spookiest nights of the year? Play the Halloween In The Enchanted Forest dress up game for girls online at Prinxy.app, and get ready to discover some of the darkest creatures living inside.
This Halloween, Rapunzel's secret wish is to find the magical winged pixies living in the enchanted forest and join their scary feast. The pixies are known for their Halloween parties, and you and Rapunzel are on their short guest list. Will you make it there? Let's start the long journey with a first challenge, which is a fun dress up game. Browse through Rapunzel's collection of Halloween costumes, and have her try some of them. In her wardrobe, you'll find two-piece costumes inspired by Harley Quinn's signature outfits, there are extravagant vampire dresses, costumes in dark colors and skeleton prints, and many more. Choose your favorite Halloween costume and then complement it with comfy shoes, accessories, and a hairstyle in a bold color. Next, complete Rapunzel's look with a spooky face design borrowed from the Mexican holiday Dia De Los Muertos or Day Of The Dead. Are you ready for some more?
Then let's step into the dark forest and venture inside a witch house. Complete a series of mini-games to clear the way and once you find yourself inside, feel free to borrow your next Halloween costume from a real witch wardrobe. Try on her dresses and tall hats, and then don't miss your chance to use her magical broom. Hop on it and fly away to the wolfgirl's den. Here you get to put your puzzle-solving skills to the test. Put the pieces of the jigsaw image back in place and then change Rapunzel's witch costume with a wolfgirl's outfit. You ladies are one step closer to the pixie's house, but not before escaping the banshee's mausoleum. Free the little ghouls and ghosts and they'll reward you with another spooky costume. Test your observation skills and reaction speed and simply click on them when they pop behind different objects in this dark place. Great job, ladies! You've made it to the Halloween feast!
Pixies await for you in their glade, join the party and offer your aid! It looks like some rotten pumpkins were left among the spooky decorations, will you help to find them out? Test your memory skills in this online Halloween-themed memory game for girls, click two cards at the same time to flip them over, and clear the board in time for the upcoming Halloween party. If the images on the cards match, then you're getting one step closer to win the challenge. If they don't match, memorize their place and try your luck with another set of cards. Then you can go on and deal with the next task. The pixies could use your help with decorating the garden for their Halloween feast. Go through all the spooky decorations available in this free to play decoration game, and pick the light garlands, jack-o-lanterns, candles, flowers, and all decorations you like to spookify the pixie's garden for the Halloween party!
With so many challenging tasks and tons of costumes to choose from, Halloween In The Enchanted Forest is one of the best holiday dress up games that you can find on Prinxy.app. Play it today!
Game Controls
Use your mouse to complete all the activities in this Halloween-themed game for girls.
Similar Games
Here are three more FREE Halloween Games you should check out: