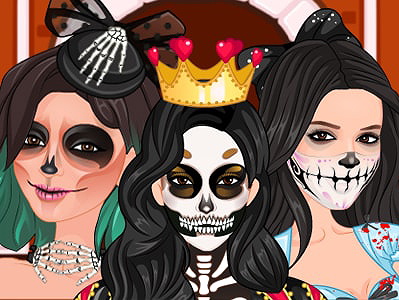 Playing Kardashians Spooky Make Up on Prinxy
The story about Kardashians Spooky Make Up
Halloween is behind the corner, and this year you are invited to celebrate it with three famous sisters. Kim Kardashian, Kylie Jenner, and Kendall Jenner are getting their looks ready for their upcoming Halloween party, and you ladies can join the preparation in the Kardashians Spooky Make Up celebrity game for girls. Get it started and get inspired for your own creepy Halloween costume!
As you might already know, the Kardashians are doing every event in style, and the Halloween party makes no exception. Besides the scary decorations they use to decorate their houses for the darkest night of the year, they also make sure they pick the latest costumes for the Halloween party. But this year, they decided to go even further with their looks, so they are going to complete their costumes with spooky face designs. And oh boy, they surely have some super cool ideas! But they could use your help, and here is where you step in as their personal makeup artist.
Play this brand new Halloween themed makeup game for girls called Kardashians Spooky Make Up, and be prepared to help Kendall Jenner, Kylie Jenner, and Kim Kardashian deal with their Halloween makeup looks! Select the first girl you want to help prepare first, and then follow our step-by-step instructions to create the spooky look. Each reality star brings two unique spooky makeup options for you to choose from, and you can pick the one you want to recreate. Next, follow the step-by-step instructions to make it. Some spooky face designs are more complex, and they will require a lot of patience and some more cosmetics, while the others are simpler to do, but they require some more precision. Take your time, draw the perfect lines, apply sparkling gems, and faux-lashes for a complete, dramatic look.
Challenge yourself to recreate all the six looks featured in this online Halloween-themed make up game for girls. Get your own Halloween look inspired by these popular celebrities, and feel free to share your creations with your BFFs! Have fun playing Halloween games online at Prinxy.app!
Game Controls
Use your mouse to interact.
Similar Games
Here are three more FREE Halloween Games you should check out: