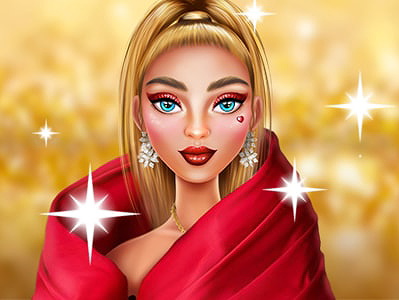 Playing Fashion Box: Christmas Diva on Prinxy
The story about Fashion Box: Christmas Diva
Bonnie loves Christmas and all the festive cheer that comes with it! As a Christmas diva, she is always dressed up in the most beautiful outfits and with the most glamorous makeup. This season she is looking for new ways to express her love for the winter holidays, and this year she decided she would do something special with your help. Let's join her in the Fashion Box: Christmas Diva dress-up game to help her dress to impress Santa with her unique sense of fashion!
This brand-new fashion game is a sequel to our highly appreciated Fashion Box: Glam Diva game and this time, the game places gorgeous Bonnie in a present box that features lots of Christmassy decorations. But keep in mind Bonnie is a fashionista too, so she's planning to spoil herself with two amazing Christmas outfits that you'll be able to pick for her. There are 4 units in total in this new game, so be prepared for some huge fun with Bonnie, and let's start playing our exclusive Christmas game for girls!
In the first unit, Bonnie has asked you to create a beautiful red and gold makeup look using the shades of the season. Blend the colors beautifully, and don't stop until you are pleased with the result. Complete her festive look with bold lipstick and some sparkling face gems. Then go on, and dress her up, in shades of red and gold. Select the most exquisite red dress for our fashionista, or dress her up in a matching sequined set that glitters in the light. Next, browse through her selection of Cinderella shoes and select the ones that best complement the chosen outfit. Continue playing this Christmas dress-up game by selecting a designer clutch and the right jewelry to complete her festive look. Are you ready for some more?
Then let's go on and discover the makeup challenge in the third unit of our Christmas makeup game. Oh, look! This makeup game is all about the green and gold palette. Use your favorite shades of green and some light gold eyeshadow to create a stunning look for her eyes, and then complete the look with a bold lipstick shade. Next, let's see what Christmassy outfit she can use to pair this extravagant makeup look.
Bonnie wants to look like a true diva this Christmas, so let's continue playing this incredible dress-up game and be sure she will be the best-dressed fashionista at the Christmas dinner. Choose a light gold one-shoulder mini-dress for the occasion, or go for something that screams effortlessly chic such as a cashmere blouse and some sequined pants. Complete the winning outfit with a pair of designer boots or high-heeled shoes and accessories of your choice. She looks perfect, don't you agree? She is so proud of her festive looks that she cannot wait to show them off to her family and friends.
Have a wonderful time playing the Fashion Box: Christmas Diva game, and we hope this makeup and dress-up game will make you love the festive season even more!
Game Controls
Use your mouse to browse through all the options in this online game for girls.
If you like this game, you can also try other Christmas Games by Prinxy.app: