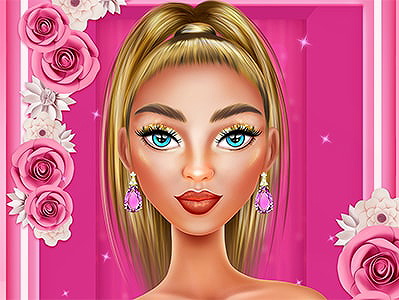 Playing Fashion Box: Glam Diva on Prinxy
The story about Fashion Box: Glam Diva
In this brand-new dress-up game for girls called Fashion Box: Glam Diva, our gorgeous girl Bonnie dresses up as a real-life Barbie in a giant box. Hit the play button and join the fun today!
In recent months, this fashion box trend has been featured all over the internet. The Kardashian sisters and Beyonce were among the first celebrities to try the life in plastic fashion challenges, and now it's Bonnie's chance to nail the look. She's going to go for a glam diva look, and she needs your help to look stunning. Are you ladies ready for a one-kind dress-up game? Then let's get started with the Fashion Box: Glam Diva dress-up game for girls and see what chic look you can put together for our beautiful fashionista.
Start with showing off your makeup artist skills. A Barbie doll's makeup is highlighted by outstanding eye makeup, and it is complemented by a super sweet pink lipstick. In this online makeup game for girls, we gathered the most beautiful eyeshadow colors and lipstick shades that you can use to create either a romantic, a glamorous, or a natural look for your beautiful real-life Barbie doll. Play with your favorite colors, and then to complete Bonnie's makeup look, apply black mascara and a shimmering blush of your choice. What else to consider? A new pair of contact lenses will add some spark to her final look, so make sure to choose a colorful pair of contact lenses as well.
Once you're done dealing with Bonnie's makeup look, you can then go ahead and browse through her glamorous wardrobe, too! There you will find lots of glamorous evening dresses and cocktail tops that you can match with sequined skirts, high heels, and sparkling pieces of jewelry. Mix and match them as you wish, have Bonnie try on a few looks, and then pick the winning one. A princess tiara and a tiny clutch will perfectly complement our girl's doll-like look, so make sure to pick the ones that best compliment her look.
Have a great time playing the Fashion Box: Glam Diva online at Prinxy.app!
Game Controls
Use your mouse to browse through all the options in this online game for girls.
If you like this game, you can also try other Fashion Games by Prinxy.app: