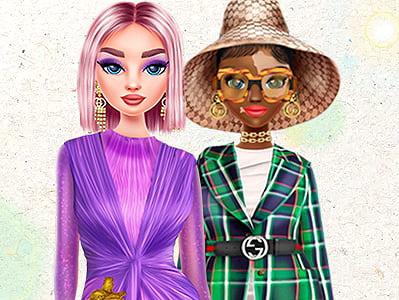 Playing Prinxy House Of Fashion on Prinxy
The story about Prinxy House Of Fashion
If you girls love luxury fashion as much as we do, then be ready to play one of the best fashion games on the internet! In Prinxy House Of Fashion, we organize a private fashion show where well-known models from all over the world present the most popular outfits of a luxury brand adored by everyone but especially by you ladies. Are you ready to take a peek?
Then let's get started with this free-to-play dress-up game for girls, and prepare yourselves to be amazed by the variety of prints, fabrics, designs, and accessories we featured in our game. In Prinxy House Of Fashion, you will discover a front-row fashion experience in which the good mood is provided by playful colors, mesmerizing backgrounds, themed-wardrobes, and your favorite characters.
The show is about to start, but not before you do your magic. In this online dress-up game for girls, you play the role of a talented fashion stylist, and you're in charge of dressing up the supermodels for the show. Are you ready for this task? Join the fun behind the scenes and see what jaw-dropping looks you can put together for the supermodels getting ready to hit the runway looking their best. The first model you are going to dress up is Kiki, one of our favorite Clony Girls, and she is going to take the plunge in a colorful, flora-printed outfit. Explore the ultimate selection of silk dresses, pick your favorite to dress her up with, and then accessorize the winning one with a pair of high-heeled sandals or with biker boots. Next, you get to change the register and try to create an outfit in neon colors with crystals and sequins for gorgeous Gigi Hadid. Used to getting all heads turned, Gigi is not afraid of wearing too much sparkle at once, so dare to get her looks out of the ordinary. Great job, ladies! Are you ready for more?
The third fashion challenge comes from our cool Clony Girl Riri. For our exclusive fashion show, she will be wearing a head-to-toe printed outfit, and you ladies are going to love her special wardrobe. Riri's selection of clothes is both sporty-chic and girly-girl, and the beauty is you can mix everything as you wish. We made sure the prints look great together, but it will be your job to make Riri's runway outfit look outstanding. Are you curious to discover Brian's wardrobe next? Our handsome boy was born for the runway, and you girls are here to help him make a good impression. Layer shirts with printed jumpers, ponchos, or suit jackets, and then match your top with a pair of loose bottoms or with some shorts. Next, you can complete Brian's runway look with a pair of oversized glasses and a printed book bag.
Moving on, you get to meet the 5th supermodel getting ready to hit the runway in our private fashion show. This time, you are challenged to dress Ariana Grande up. We saved a feminine wardrobe for your favorite celebrity where pink and purple make the rule. The impressive selection of high heels and the precious-looking jewelry and clutches come to perfectly complete her sweetheart look. Oh, and the background is absolutely to die for. Next, a new Clony Girl is getting ready to steal the spotlights. Her name is Polka, and she's our dear curvy supermodel you're going to dress up next. Beautiful and confident, Polka is not afraid to show off her patchy skin to the world. In this dress-up game for girls, you're mixing plaid prints, tweed fabrics, and plain items in a jaw-dropping, runaway-worth outfit. Make sure she looks great!
Last but not least, you get to dress gorgeous Kendall Jenner up as well. We saved a stunning collection of evening dresses for her, find the best one to dress her up with, and then don't forget to accessorize.
Have a great time playing the Prinxy House Of Fashion game for girls online at Prinxy.app!
Game Controls
Use your mouse to browse through all the options in this online game for girls.
If you like this game, you can also try other Fashion Games by Prinxy.app: