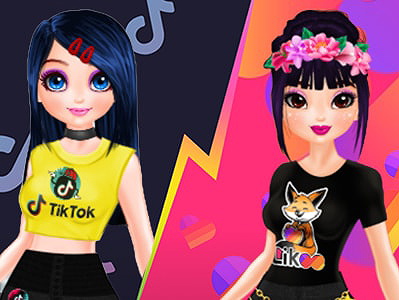 Playing TikTok Girls Vs Likee Girls on Prinxy
The story about TikTok Girls Vs Likee Girls
Marinette and Tiana are super famous on social media. Marinette is one of the most popular influencers on TikTok, and Tiana is a Likee fan. Which of them do you think is the most famous? Let's find it out together while playing the TikTok Girls Vs Likee Girls dress up game for girls online at Prinxy.app!
We're starting the fun with TikTok's favorite, Marinette! She loves to keep her fans entertained with her singing, dancing, and mini-videos. Right now, she's getting ready to make a new video for her followers, and she needs your help to choose her outfit. Join her in getting started with this online dress up game for girls and see what TikTok-inspired look you can put together for her. There are lots of girly crop tops to choose from, hoodies, and anime shirts as well. Match your favorite with a pair of denim shorts, baggy sweatpants, or a pleated skirt. Next, look for a pair of sneakers to go with the chosen outfit, and don't forget to also select a new hairstyle for cute Marinette. The hair can be from a VSCO girl's look or an e-girl's look. Great job, ladies!
Next, let's discover Tiana's influencer wardrobe as well. This Disney princess is very active on Likee. She often makes hair and makeup tutorials for her followers, and she loves to integrate funky video effects into the videos she shares on this platform. She's about to make a new beauty video for her audience. Will you help her out? In this online makeup game for girls, you can help princess Tiana deal with her makeup of the day while you discover some of her amazing beauty tricks. She loves starting her makeup looks by doing her eyebrows. Tiana says this helps her with contouring her face, so you should start with this task, too. Apply a multicolored or a shimmering eyeshadow on her eyes, match it with a layer of mascara, a natural lipstick shade, and don't forget to also use some blush on her cheeks. When you've done with Tiana's makeup, you can then advance to the next page of the game and find the coolest outfit for her to wear today.
Competitors on social media and best friends in real life, Marinette and Tiana are going to take you on a fun adventure behind the lenses in this online social media themed game for girls called TikTok Girls Vs Likee Girls. Play it today online at Prinxy.app!
Game Controls
Use your mouse to interact.
Similar Games
Here are three more Girls Games you should check out: