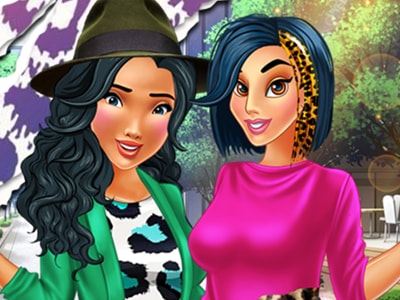 Playing Princesses Animal Prints Obsession on Prinxy
The story about Princesses Animal Prints Obsession
Princesses Pocahontas and Jasmine have a new fashion obsession. This season they can't get enough of animal prints - in all colors. It's no wonder that they would want to wear animal-printed clothes all day. Play the Princesses Animal Prints Obsession dress up game for girls online at Prinxy.app, join them on a quick shopping session at the mall, and help them shop the latest animal printed clothes, shoes, and accessories!
Animal print is one of the fashion trends for 2020, although this eye-catching print's popularity has never gone away. The print is staying strong as a trend for the rainy season, and in this online dress up game for girls, you're going to discover the leopard print, snakeskin, zebra stripes, and even tiger patterns on dresses, tops, suit jackets, pants, shoes, and purses. It's a surprisingly versatile pattern, and you can easily dress the look up or down. You can be bold and layer the different animal prints together in a jaw-dropping outfit, or you can simply focus on one printed item and put together the outfit of the day around it. We are already curious to see what you are going to pick for these two BFFs. Are you ready to show off your skills?
But first thing first, let's head to a mall to shop for some animal printed fashion stuff. Join the princesses in their shopping haul, click all the animal printed outfits and accessories, and then help them fit the new items into their wardrobe. Next, put your styling skills to the test and create some looks at the cutting edge of fashion! For Jasmine, you can pick a leopard midi dress and pair it with ankle boots, a chic leather jacket, and a new hairstyle. Or, you can simply choose a fuchsia blouse, pair it with leather leggings, and make her outfit stand out with a long animal printed coat. For Pocahontas, you can mix a zebra printed dress with a faux-fur coat and pink boots, or you can pick a snakeskin printed crop top, a sequin skirt, a pair of knee tall boots, and a zebra printed suit jacket. You also have scarves, handbags, hats, and sunglasses to complete their looks.
Let your creativity run free while playing this fashion-themed princess game online at Prinxy.app and have a blast creating out of the ordinary looks for these beautiful fashionistas!
Game Controls
Use your mouse to browse through all the options in this online princess dress up game for girls.
Similar Games
Here are three more FREE Fashion Games you should check out: