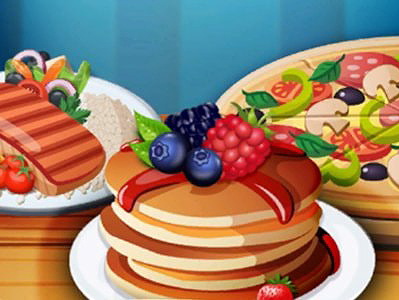 Playing Cooking In The Chef's Kitchen on Prinxy
The story about Cooking In The Chef's Kitchen
Have you ever wanted to be the chef in charge of a busy restaurant? Well, here's your chance! Roll up your sleeves, tie up your hair, and get started with Cooking In The Chef's Kitchen game for girls!
This is the opportunity you've been waiting for, are you ready for it? In this brand-new cooking game, you're getting a professional kitchen equipped with the latest appliances, a thick menu full of yummy dishes, and some money for your first day in the new kitchen. So let's start the day with a fun shopping spree at the local grocery store! Are you ready to discover more? Scroll down for details ⬇️
But first thing first! Let's go shopping! At the beginning of the game, you're getting some money that you can spend at the grocery store. Go ahead and spend them wisely! Buy fruits and veggies, floor, chocolate, syrups, oil, and everything else you think you might use for the first recipes in this multi-leveled cooking game for girls. Make sure to save some money to buy appliances. They are going to help you in the kitchen.
Great job, ladies! Now that you have the basic items to start the fun with, dare to open the menu to find out what you're going to cook today. The first level in this free to play cooking game brings four recipes from the breakfast menu. There are both sweet and salty dishes to start the morning with, but depending on the items you've bought before, you're going to cook only certain dishes. Sounds like fun, right? Follow the tips and tricks provided by each recipe, cook as well as you can, and serve the dish to your client waiting patiently to taste your food.
Impress your costumes with your amazing cooking skills, collect their tip, and use the money to buy new ingredients and kitchen appliances for your growing business. Don't miss any step in the cooking process… a perfectly done dish will also bring some gold stars. Collect them all and unlock new challenging recipes as you advance in this fun cooking challenge. Are you already wondering what's coming up after the Breakfast Menu? There's the Fast Food Menu, then follows the Everyday Lunch Menu, the Mexican Food Menu, and of course the Holiday Lunch Menu. Will you cook them all?
Have a blast playing Cooking In The Chef's Kitchen game for girls online at Prinxy.app!
Game Controls
Use your mouse while you work your way in our virtual kitchen
Similar Games
Here are three more food games you should check out:
Baking Surprise
Princesses Pizza Party
Blackforest Cake Maker