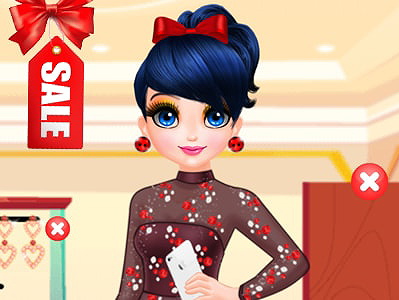 Playing Marinette Freaky Black Friday Sale on Prinxy
The story about Marinette Freaky Black Friday Sale
Black Friday is already here, and Marinette can't wait to hit the mall! She has a long list of items she plans to buy at sales this year, and she could use your help. In the Marinette Freaky Black Friday Sale dress up game for girls, you are Marinette's personal shopper, and you help her decide on some stunning outfits and accessories she can buy at huge discounts! So are you ladies ready to get started with this year's shopping marathon? Then get started with this fun dress up game for girls and see what you can buy for her!
As you may already know, Black Friday is an annual shopping event that started in the United States. It is held right after Thanksgiving Day, and it celebrates the start of Christmas preparations. Black Friday always brings huge discounts, and as any fashionista waiting to shop 'til she drops, Marinette can hardly help herself from buying more than she needs. That's why you are invited to join her at the mall, and advise her on what to buy and what to skip. Are you ready to get started with your girly-girl shopping session? Then get started with this online shopping game for girls and help Marinette renew her wardrobes with chic items bought at a low price.
Start with the makeup shop. A girl can never have too many cosmetics, and there is always a need for a new lipstick or mascara. Luckily, Marinette's favorite makeup shop has plenty of promotions this Black Friday, and she can buy everything she needs. There are eyeshadows in pastel colors, many lipsticks to choose from, blushes, eyeliners, and colorful mascaras as well. Help her decide what to buy while dealing with her makeup look! When you've done proving your makeup artist skills, go on and prove your fashion adviser skills next. Go to the clothing store, and shop the trendiest clothing pieces you can find there. From elegant party dresses to girly-girl tops, loose skirts, jeans, and shorts, you can buy anything you like. With the new outfit chosen, you can go to the shoe store where you can choose a pair of high heels that perfectly complement the previously chosen outfit. Shop a cute handbag and some jewelry as well.
Have a great time playing the Marinette Freaky Black Friday Sale dress up game for girls online at Prinxy.app!
Game Controls
Use your mouse to interact.
Similar Games
Here are three more Black Friday Games you should check out: