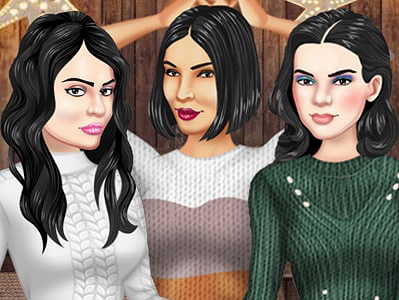 Playing Kardashians Do Christmas on Prinxy
The story about Kardashians Do Christmas
Kardashians do Christmas in style, and this year you are invited to celebrate it with three of the famous sisters. Be ready to keep up with the Kardashians in this free to play celebrity game for girls! Come and join three of your favorite reality star celebrities in the Kardashians Do Christmas and see what jaw-dropping holiday looks you can put together for Kim, Kylie, and Kendall!
This winter, you are invited to do Christmas together with the most popular celebrities in the world! Come and join the Kardashians in this brand-new holiday game for girls and help the gorgeous sisters prepare to attend the Christmas dinner in style. Kendall, Kylie, and Kim are the ones who need your expert advice, so don't miss this opportunity of styling some of the most popular girls in the entire world. Before anything else, start with the makeup challenge, a session in which you get to use some of Kylie's famous cosmetics to create holiday makeup looks for each of them. Keep in mind that these celebs love their makeup to be unique and with a natural finish, so pick natural colors for their lipstick, eye shadow, and blush. Next, style up their hair, and then move on to the outfit picking stage.
Start this online dress up game marathon by dressing up miss Kylie Jenner. Navy, white, and grey are the predominant colors in her wardrobe, and you can mix and match them in a festive outfit for her to wear at the upcoming Christmas dinner. Next, you can help gorgeous Kim Kardashian choose her outfit, too. Kim's wardrobe is filled with many outfits from the latest Yeezy collection, for sure you are going to find something to fit her style. The third sister who needs your stylist advice is none other than the famous supermodel, Kendall Jenner. After you've done her makeup and after you've picked her hairstyle, you can choose to dress her up in an animal printed shirt and a pair of jeans, or you can be bold and put together several prints in a jaw-dropping look.
Have a great time playing the Kardashians Do Christmas dress up game online at Prinxy.app!
Game Controls
Use your mouse to interact.
Similar Games
Here are three more Christmas Games you should play next: