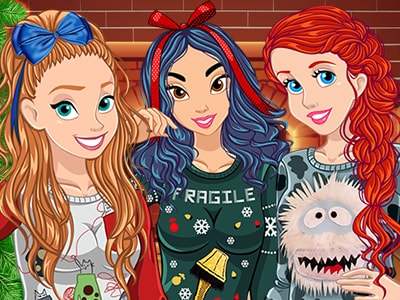 Playing Princesses Ugly Sweater Fun on Prinxy
The story about Princesses Ugly Sweater Fun
With only a few days left until the winter holiday, the coolest parties have been announced, and these Disney princesses plan to attend them all. Especially that this year will be princess Jasmine's first time celebrating Christmas, and they want her to discover them all! Her best friends want her to have the full Christmas experience, and for that, they are going to need your help. Come and join the girls in getting started with the Princesses Ugly Sweater Fun, and help the three BFFs have the best Christmas ever!
As you already know, the preparations for this magic winter holiday start at the beginning of December, and they end on Christmas Eve. And what's the first thing we all do? We decorate the house and tree for Christmas, of course! This is how Anna and Ariel are going to introduce princess Jasmine to this beautiful holiday! Join the three best friends in this online decoration game for girls and help them beautify their living room in time for Christmas. Decorate the fireplace with stockings, candles, garlands, winter flowers, and colorful lights. Then, choose some gorgeous decorations for the Christmas tree as well.
Once you've done dealing with this interior designer task, you can then help the girls get ready for the annual Ugly Sweater Party! This is your chance to show off your fashion adviser skills in this online princess game for girls. The ugly sweater party is a silly and fun tradition that Anna and Ariel put together to entertain their friends. It's the perfect tradition for everyone to present, receive, and wear ugly Christmas sweaters. The uglier the better! Help these gorgeous princesses do the almost impossible, and make their ugly Christmas sweaters look stylish. But don't be afraid to look a little bit crazy, I'm pretty sure that Anna, Ariel, and Jasmine won't mind. Don't forget to choose which sweater is ugly, which one is uglier and which one is the ugliest!
Have a great time playing the Princesses Ugly Sweater Fun dress up game for girls online at Prinxy.app!
Game Controls
Use your mouse to interact.
Similar Games
Here are three more Christmas Games you should play next: