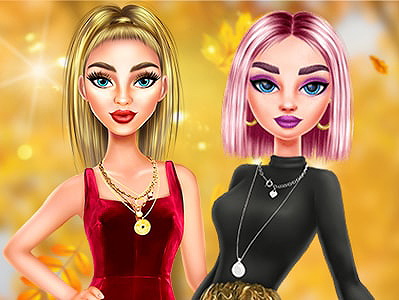 Playing BFFs Golden Hour on Prinxy
The story about BFFs Golden Hour
Are you ready for the most exciting fashion adventure game with gorgeous Kiki and her friends? They will have an amazing time taking their seasonal aesthetics to the next level by dressing up for the golden hour. They are all set for a fantastic fall look that will be perfect for their album! Join them on their trip with the BFF's Golden Hour dress-up game for girls!
Fall is here, and the BFFs decided to take the perfect photos with their Instagram-worthy makeup and outfits. Elsa, Ellie, Kiki, and Regina are all in charge of getting amazing images for their fall aesthetics album, so make sure you come and join them in their BFFs Golden Hour dress-up game for girls! Help them get ready by dressing them up with a variety of beautiful outfits, accessories and makeup styles then snap the most instagrammable pictures you need for their album. Are you ready to start this exclusive fashion challenge?
You start this fashion game with two of your favorite Clony girls, Regina and Kiki. Effortlessly chic, Regina wants to show this fall. So try on a cropped blazer, loose denim pants in lovely pastels, or a tweed dress with jewelry that embodies the style and grace she desires. Mix and match your favorite clothes with pieces of jewelry, shoes, and makeup looks to get her ready on time. Then go on and take care of Kiki's fall look as well. Inspired by her best friend, Kiki also has an addiction to crop tops, and she can't wait to wear her favorite one. Kiki's style is unique... she wears her favorite crop tops along with a pretty mini skirt, matching sneakers, and a chic blazer because the weather is still warm. Choose from a wide assortment of cool clothes and accessories and create an outfit that's the best match possible!
Are you ready for some more cozy-chic clothing pieces? Help your fashionista friends Bonnie and Elsa look chic in warm and comfy autumn looks. You're continuing with your favorite fashionista, Queen Elsa. In this fun princess game, Elsa's selection of fall outfits is ruled by cozy knits and athleisure pieces. Do you think they could work well together? Mix them as you wish, and then finish Elsa's outfit of the day with a colorful makeup look. Then how about helping Bonnie look equally chic next? Bonnie is into matching sets this fall season, and your challenge is to find the right one. Plaid prints, uni, sequined, or covered in sparkling gems, she has them all. Dress her up in the ones you like the most, pick the winning one, and accessorize it with a designer bag and sparkling jewelry.
Have a great time playing the BFFs Golden Hour dress-up game online at Prinxy.app!
Game Controls
Use your mouse to browse through all the options in this online game for girls.
If you like this game, you can also try other Fall Dress Up Games by Prinxy.app: