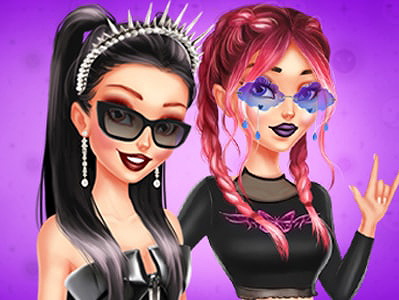 Playing Oh My Goth on Prinxy
The story about Oh My Goth
The time for modern witchcraft is finally here — and we love it. Our brand-new dress-up game for girls, Oh My Goth, will teach you all about the fantastical and mystical whimsigothic fashion trend hexing TikTok.
So have you ever wanted to be a goth but never knew where to start? You don't have to be a member of the club or have black nails, or wear a cape. The Oh My Goth fashion game shows that there are many ways to express your gothic style. Get inspired by this new trend that emerged from the collision of gothic and whimsical styles. It fuses codes from the 80s gothic style with surrealist evasions inspired by fairy tales and cinematic darkness. Gothic, grunge and gothfied fashion trends don't have to be restricted to the streets, that's why we are here to teach you all about their aesthetics and how to integrate them into your wardrobe. Are you ready to explore the darker side of fashion?
Go ahead and choose your favorite whimsigothic outfit for our cool girl Arya. Let's start browsing her wide selection of whimsigoth clothes as you play this fun fashion game online on Prinxy.app. From corset-cropped tops and loose blouses with delicate embroideries, black lace pants, and skirts to glowing, majestical dresses with bell sleeves, you can choose your favorite outfit to dress her up with. Complement the winning outfit with moon earrings, a big gloppy hat, and a crocket handbag. Are you ready for more?
As a trend-inspired woman, Violet knows all about dressing outside the box. The Chicster's wardrobe ranges from bold and black to dark red and playful with a hint of dark gothic vibes that captures the essence of her unique fashion style. Her signature look is easy to replicate by adding whimsy touches to your business casual outfits or with an edgy leather black dress and chain earrings for a night out at the club. She's our second model in our goth dress-up game, so make sure to pick something outstanding for her.
Last but not least, we have Lina. She is a true goth princess, which means she likes to wear black and leather pieces, but she also has a girlish side. Therefore, you will find some colored clothing pieces and anime prints in her wardrobe. Choose from everything available in our TikTok game to dress Lina up with. For a complete #fairycore look, dare to peek at the dark makeup options available on our goth makeup game for girls.
Have a great time playing the Oh My Goth dress-up game online at Prinxy.app!
Game Controls
Use your mouse to browse through all the options in this online game for girls.
If you like this game, you can also try other Fashion Games by Prinxy.app: