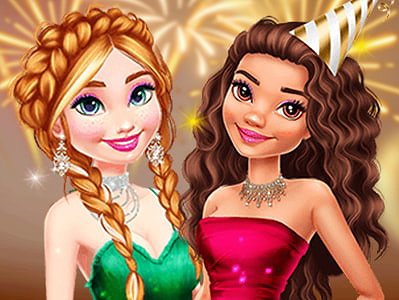 Playing New Year's Glitter Fest on Prinxy
The story about New Year's Glitter Fest
It's New Year's Eve, and our five BFFs are ready to celebrate the new year in style! The glitter theme for the New Year celebration was chosen to add a touch of sparkle and glamor to the festivities. It is perfect for the five Disney Princesses who plan to get all dressed in glittery gowns and sequined dresses. So as the clock strikes midnight, the five princesses will celebrate the start of the New Year in a shower of glitter, making it a night to remember. Come and help them choose the best looks in the New Year's Glitter Fest dress-up game for girls!
New Year is an annual celebration that marks the beginning of a new year and is celebrated on different dates around the world. It is typically a time for family gatherings, reflection, and resolutions. Popular New Year traditions often include fireworks, feasts, and parades. We have a bit of everything in our exclusive New Year game. Play it today!
Princess Moana is the first to start her preparations in this holiday game for girls, and she could use your help to decide which of her colorful gowns, curly hairstyles, clutches, and oversized jewelry would be perfect for the night. Help her pick the right dress, and then style her curly hair into a delicate hairstyle to perfectly complete her look. Then add a clutch and oversized jewelry for the perfect touch. Let's join Queen Elsa next. She is still searching through her wide selection of blue and purple sequined party dresses, diamond jewelry, and designer bags for the perfect look. Can you help her out as well? Browse through all those mesmerizing sequined dresses in shades of blue and purple to see which would look the best on her. I picked a light blue sequined dress and paired it with a diamond necklace. What would you select for her?
Continue playing our fun princess game, and get ready to join Princess Anna next. She has the perfect dress in mind, a floor-sweeping green dress, a red princess dress, and a sequined champagne-colored dress, all of which she is deciding between. Have her try them all and pick the winning one. Then complete her festive look with a bohemian hairstyle and a matching jewelry set. I hope you ladies are ready for the fourth challenge in our exclusive fashion game for girls. Bonnie comes up next! While getting ready to celebrate New Year's, Bonnie has picked six stunning mini-dresses with flower prints and glittering sequins for the occasion. What should she wear? Find the right dress for our beautiful fashionista and complete the festive look with a sleek hairstyle or a sophisticated updo.
Lastly, Princess Ariel has a selection of colorful short dresses and the right party accessories available at your disposal in her festive wardrobe. Hurry up and find something equally chic for our red-haired cutie. The night is still young, and, that's to your help, each of the five princesses are looking their best. When the clock strikes midnight, they will be gathered to watch the fireworks and make a toast to the new year!
Have a wonderful time playing the New Year's Glitter Fest game online at Prinxy.app!
Game Controls
Use your mouse to browse through all the options in this online game for girls.
If you like this game, you can also try other New Year's Games by Prinxy.app: