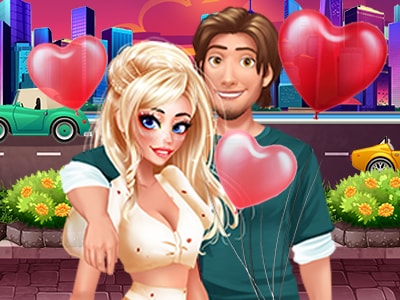 Playing Harley Learns To Love on Prinxy
The story about Harley Learns To Love
This Valentine's Day, Harley Quinn has decided she wants to fall in love. It's the season of love, and she's going to go out there and try dating a few lads. She'd had enough of bad boys, and she is ready to try something new. It's a great challenge for our villain to date royalties and handsome men, so she's going to need your guidance this time. In this brand-new holiday game for girls called Harley Learns To Love, you help Harley Quinn get a total makeover and transform herself from a grungy girl into a sweet girl. Are you ready to prove your skills?
Then let's get started! Harley's first task for you ladies comes wrapped in a fun makeover game that you are going to love. It's a step in which you will help this famous villain get rid of her bold, grungy look and turn into a sweet girl who can date handsome Ken or even Jack Frost. So let's start by removing her makeup look. Use biphasic micellar water to remove all the villain makeup on her face, and then get the pink and blue colors on her hair. Blow-dry it into a girly-girl hairstyle and then continue with her makeup look. Step by step, apply some foundation on her face, then a warm eyeshadow color, a natural lipstick, and some blush. One more step and she's ready to meet her first suitor. Are you ready to take a look through the girly-girl wardrobe we've prepared for the new Harley Quinn?
Then hurry up and play our online Harley Quinn dress up game for the girl next. Her new wardrobe was filled with candy-inspired colors and girly details, trendy shoes, and lots of chic accessories that you can use in endless combinations. So let's have her try on a few looks. Dress her up in all your favorite dresses, or mix and match ruffled tops, crop tops, and elegant blouses with wide skirts, high waisted pants, or gorgeous tutu skirts. Pick the winning look and complete it with a pair of high-heeled shoes, a mini bag, and metallic jewelry. Finally, she's ready to pick a date. Who should be her Valentine, and where should they date?
That's something we are going to find out next, but not before we analyze Harley's options. Ken, Jack Frost, and Flynn are the three handsome lads willing to celebrate this Valentine's Day together with our #softgirl Harley Quinn, so help her pick her date. Next, you have to decide on a place where they should spend the day together and then be ready to experience the excitement of a first date. Play this entertaining Harley Quinn kissing game online at Prinxy.app and help your favorite villain and her handsome boyfriend fill the kissing meter without getting caught by curious eyes.
Have a great time playing Harley Learns To Love game for girls online at Prinxy.app!
Game Controls
Use your mouse to browse through all the options in this online game for girls.
Similar Games
If you like this game, you can also try other Valentine's Day Games by Prinxy.app: