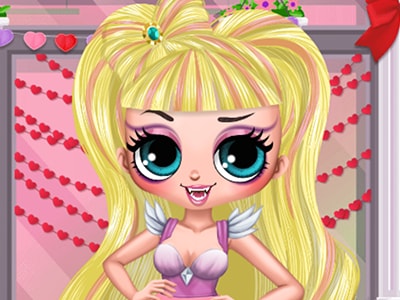 Playing Popsy Surprise: Valentine's Day Prank on Prinxy
The story about Popsy Surprise: Valentine's Day Prank
It's Valentine's Day, and for the first time in her life, our cute LOL Doll is not happy about it. She has a broken heart and she is not in the mood for sugary stuff. Her boyfriend recently left her for one of her friends, and she can't wait to teach the newly minted couple a lesson. She's going to need all your support to deal with all the details of a horrible dinner on Valentine's Day, and you can help her out in the Popsy Surprise: Valentine's Day Prank game for girls. Are you ready to join her?
In this brand-new holiday game for girls, you can help our popsy-princess ruin her ex-lover's date, and we believe you are going to love dealing with all the details of this super special Valentine's Day prank. But first thing first, she needs to wear her best outfit and a stunning makeup look for this occasion, and here is where your first task begins. Be Popsy's personal makeup artist while playing this online LOL Surprise Makeup Game on Prinxy.app and surprise her with a bold makeup look. Choose a candy-colored shade for her skin and then continue with her makeup look. Use pastel eyeshadow colors, natural blush shades, and bold lipstick to get a jaw-dropping makeup look for her.
With her make-up done, you can now move on to the next stage in this free-to-play game for girls and continue with completing the LOL Surprise Dress Up Game next. In her Valentine's special wardrobe, you are going to find some of the chicest clothing pieces that you've ever seen. Besides the fiery-red dresses, there are some leather pieces in cute pastels, chic corsets, and killer heels that you can use to complete her look. Mix and match the items you like the most, and then choose a new hairstyle for her as well. Are you wondering what's coming up next?
Well, next you ladies get to help our popsy-princess to prepare a funny Valentines' Day prank for her ex-boyfriend and his new girlfriend. They are going to celebrate their very first Valentine's Day at a fancy restaurant, and luckily our girl got her hands on their table. You two need to work out all the details of your prank and ruin this lover's romantic dinner with a few tricks. Be careful not to get caught!
Have a great time playing the Popsy Surprise: Valentine's Day Prank game for girls online at Prinxy.app!
Game Controls
Use your mouse to browse through all the options in this online game for girls.
Similar Games
If you like this game, you can also try other Valentine's Day Games by Prinxy.app: