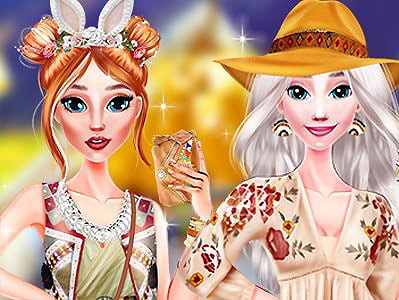 Playing Easter Glamping Trip on Prinxy
The story about Easter Glamping Trip
Celebrate the spring holidays in style together with two of your favorite Disney girls! This Easter, Elsa and Anna are going glamping, and you, ladies, are invited to join the fun! In this brand-new Prinxy dress up game called Easter Glamping Trip, you help the Frozen sisters pick their chic outfits for the upcoming trip. Then you can help them decorate their fancy tent, and finally, together with them, you can complete a fun holiday-themed activity. Are you ready to join the fun?
In this free-to-play princess game for girls, you're celebrating Easter in the traditional Norwegian way. One way the Norwegians love to celebrate Easter is by exploring the nature for a couple of days. This year, our Norwegian sisters are going glamping in the mountains, where they plan to relax under the sun all day long. For that, they booked the most Instagrammable glamping place in Norway, and now they need your help to get their outfits ready for the fancy trip. Come and join them in getting started with the Easter Glamping Trip game for girls, and see what jaw-dropping holiday looks you can put together for them. As their fashion adviser, you can choose from an impressive collection of bohemian dresses, embroidered tops, knitted blouses, jeans, shorts, and Aztec printed overtops. Go through all the options available at your disposal, and pick the perfect outfit of the day. Then go through the wide selection of accessories as well, and choose the ones you like the most to complete the princesses glamping look: earrings, bracelets, shoes, straw hats, bunny ears, and flower crowns are some of the options available in this dress up game for girls. Great job, ladies! Are you ready for more?
Join the girls in front of their glamorous camping tent next and help them decorate their front terrace. Rattan chairs, colorful cushions, wooden tables, candles, lights, flowers, fireflies, gadgets, and yummy goodies become available at your disposal once you enter this colorful Easter decoration game. Try a few combos, and don't stop until you find the perfect setup for a special evening under the stars. Don't forget to also light up a campfire for them! It's been a while since they had a girls' glamping trip, and they both want to enjoy a full experience.
Finally, help the Frozen sisters decorate their Easter eggs. If you're feeling creative, you can use the design tool and come up with unique colors for each Easter egg. To finish this online DIY game, choose from a selection of cute stickers and colorful flower crowns, the ones you like the most for your girls' eggs. When you're done, save your creation, and share it with your friends! In this new holiday game, a lot of fun and creativity is waiting for you. Discover all the tasks as your advance from one unit to another!
Have a great time playing the Easter Glamping Trip game for girls online at Prinxy.app!
Game Controls
Use your mouse to browse through all the options in this online game for girls.
Similar Games
If you like this game, you can also try other Easter Games by Prinxy.app: