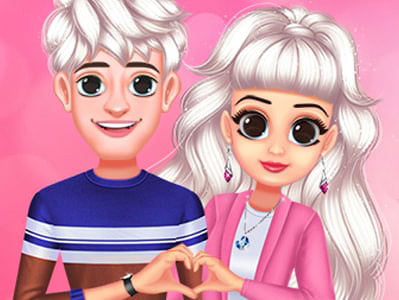 Playing Princess Valentine's Crush on Prinxy
The story about Princess Valentine's Crush
Princess Valentine's Crush is a free-to-play game for girls where one of your favorite Disney couples is getting ready to go on a romantic date right on Valentine's Day? Care to take a guess who they might be? Get it started now to find out!
In this online holiday game, you can help Elsa and Jack Frost prepare to have the perfect date this Valentine's. They are so excited about it, and they both want to look great. So you girls are challenged to help them dress up and choose the best outfits for this date. Are you in for this challenge? Then be ready to start with the makeup task Queen Elsa has prepared for you. She plans to impress her Valentine with a natural look, and we've prepared an impressive selection of eye shadows in lovely pastels, natural options for the blush palette, and even eight lipstick colors for you to choose from. Create her natural makeup in your favorite colors, and then complete her final look with a pair of new contact lenses. Then continue playing our Elsa dress up game next.
In this princess game, you can choose between several red dresses for Queen Elsa to wear on this special day. Red is the color of passion and love, and it's one of the colors most used on Valentine's Day. Elsa is determined to impress her boyfriend, and here you can help her out. Browse through her selection of lace dresses and feminine jumpsuits, dress her up in your favorites, and pick the one that looks the best on her. Next, accessorize it with a playful hairstyle, sparkling jewelries, and some cool sunnies. Then, go on with your fashion adviser task, and select a matching outfit for Elsa's Valentine. Are you ready for some more?
Setup a nice photo corner and snap a picture to immortalize their special day together. Decorate it with holiday stickers and post on social media. Have a great time playing the Princess Valentine's Crush game for girls online at Prinxy.app!
Game Controls
Use your mouse to browse through all the options in this online game for girls.
Similar Games
If you like this game, you can also try other Valentine's Day Games by Prinxy.app: