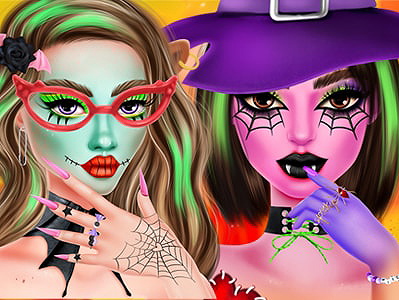 Playing Makeup Studio - Halloween on Prinxy
The story about Makeup Studio - Halloween
Girls, are you ready to rock a jaw-dropping Halloween makeup look? We bring you the spookiest Halloween looks inspired by three famous TikTokers in our free-to-play Makeup Studio - Halloween game. Just check them out by getting started with our free-to-play holiday game for girls! From villains to Monster High characters, you can find some trendy Halloween aesthetics in our game. Play it today!
Spooky Halloween makeup is nothing to be ashamed of. It's a great way to let the world know that you are not afraid of monsters, but monsters are scared of you. And so it should be with any makeup: they should come with an attitude like this DC Comicon villain-inspired look. With an eye-catching mix of bold colors and a cool tattoo that adds some edge while keeping you in the spotlight throughout the night, this costume has all the features of your dream outfit. Dare to complete it with spider earrings and a Poison-Ivy-inspired green head wreath. Are you ready for some more?
It's time to get your hands dirty with Olivia, who wants to celebrate this Halloween in style. You will be helping her to create the perfect makeup look while enjoying a few spooky surprises along the way. With the help of our makeup game, you will be able to create an exciting yet unique look for Olivia. She wants it to be a little wicked, so go ahead and choose from all the options we have prepared just for her! There are bold colors, playful designs, long pointed nails in electric colors, and witchy accessories that mixed will create a jaw-dropping Halloween look. What are you going to choose for her?
Are you ready for some more makeup fun, girls? Since you've played our first and second makeup games in the Makeup Studio - Halloween game, you already know what to expect - lots of makeup ideas to choose from and a good dose of fashionable fashion items. But those two were about traditional Halloween looks. We are here today with a third game that focuses on the Monster High ghouls. The gorgeous Emma is the client this time, and she's got an incredible look that needs to be recreated with your help!
Have a great time playing the Makeup Studio - Halloween make up game online at Prinxy.app!
Game Controls
Use your mouse to browse through all the options in this online game for girls.
If you like this game, you can also try other Halloween Games by Prinxy.app: