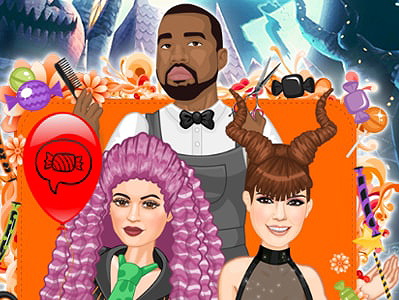 Playing Jenner Sisters Spooky Hairstyles on Prinxy
The story about Jenner Sisters Spooky Hairstyles
It's the Halloween season, and everyone went crazy with their costumes this year! But not as crazy as the girls in the Kardashian-Jenner family. They are committed to stealing the spotlights with their spooky costumes, so they asked famous Kanye West to help them deal with their terrifying Halloween looks. You ladies can join the preparation in the Jenner Sisters Spooky Hairstyles celebrity game for girls. Play it today and get inspired for your own creepy Halloween look!
Even if it may come really hard for you to believe it, Kanye West is really talented when it comes to hairstyling. He's been dealing with Kim's daily hairstyles for years, and now he happily took the challenge to style up his sisters-in-law as well. Kendall Jenner and Kylie Jenner are focusing on out-of-this-world hairstyles, and you girls are invited to get your tips and tricks from this online hair game for girls.
Play this brand new Halloween themed hair game for girls called Jenner Sisters Spooky Hairstyles, and be prepared to help Kendall Jenner and Kylie Jenner deal with their Halloween hairstyles! Select the first girl you want to help prepare first, and then one hairstyle from the three options you have at your disposal. Then guide Kanye West step-by-step as you two try to create it. Cut, comb, style, and create voluminous and unique hairstyles for your famous clients. When you've completed the hairstyling task, you can also put your stylist skills to the test and choose their Halloween costumes as well. In this online dress up game for girls, you will find many spooky costumes to choose from. Between all the options, you can find Wonder Woman costumes and accessories, pumpkin girl costumes, Spider Girl jumpsuits, and many more. Don't forget to also complete their spooky looks with dramatic face paintings, too.
Challenge yourself to recreate all the six hairstyles featured in this online Halloween-themed game for girls. Get your own Halloween look inspired by these popular celebrities, and feel free to share your creations with your BFFs! Have fun playing Halloween games online at Prinxy.app!
Game Controls
Use your mouse to interact.
Similar Games
Here are three more FREE Halloween Games you should check out: