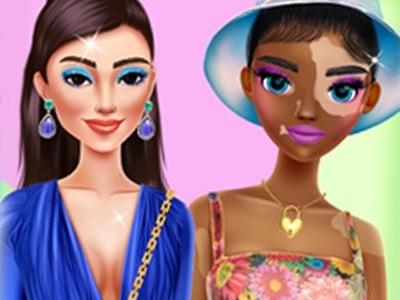 Playing Crypto Gals TikTok Fashion on Prinxy
The story about Crypto Gals TikTok Fashion
Crypto Gals dress-up game is the first game where you can combine fashion with the blockchain in a fun and unique way. Play the Crypto Gals TikTok Fashion game today, join these two best friends who love spending time together, and create their perfect outfit with the most stylish pieces in their closet!
The Crypto Gals are ready to enter one of the most popular social platforms nowadays, complete with its own set of trending styles, fun challenges, and millions of followers. Inspired by the crypto and TikTok worlds, this game brings a fun challenge in which you will be doing dress-up with cute outfits that feature Solana colors. Once the main decisions are taken, you can accessorize each look with trendy accessories such as oversized earrings, sunnies, designer bags, and even chic crop tops that are available at this fashion adviser game. Are you ready to dive in?
Then let's meet our beautiful crypto enthusiasts. The first girl to get dressed up in bright colors is our beautiful girl, Polka. She is a chic geek in the cryptocurrency world and the first Clony Girl to enter the Metaverse. Polka is a crypto enthusiast with a passion for fashion too, and with your help, she'll manage to surprise her followers with a unique look today! So let's help her make a good impression today! First, start dealing with her makeup look. Browse through a wide selection of purple, pink, and blue shades, mix and match them as you wish, and create a colorful look for her eyes. Then continue playing this free makeup game for girls and complement Polka's makeup with a natural lipstick color, a peachy blush, and black mascara. Next, get ready to practice your fashion adviser skills and choose trendy crop tops, minis, short jumpsuits, and lovely printed dresses one by one. Don't stop until you find the right look.
Are you ready for some more? Miss Ariana Grande is the next in line to discover your amazing stylist skills. Get your favorite celebrity a glowing makeup look in pink and purple shades, and then deck her in a fancy outfit. Corsets in candy colors, knitted cropped tops, and feminine shirts are the options you can pair with ripped jeans, flower printed skirts, or sequined minis. Try different combos, and then accessorize the winning one with sunnies and necklaces as you finish playing this online dress-up game for girls!
Have a great time playing the Crypto Gals TikTok Fashion online at Prinxy.app!
Game Controls
Use your mouse to browse through all the options in this online game for girls.
If you like this game, you can also try other TikTok Games by Prinxy.app: