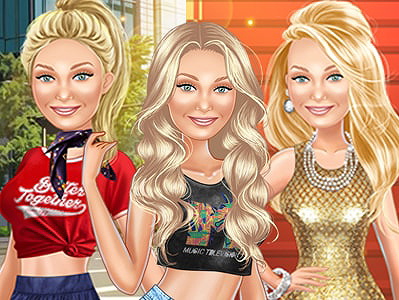 Playing Supermodel Fashion Lookbook on Prinxy
The story about Supermodel Fashion Lookbook
There is a job opening in the fashion industry, and you ladies are going to love it! Gigi Hadid needs some help with designing her lookbook, and you can help her out! Come and join her in getting started with the Supermodel Fashion Lookbook dress up game for girls online at Prinxy.app!
Every year the beautiful blondie refreshes her lookbook and updates it with pictures from the latest fashion events. This year she's going to use pictures from three important red carpet events, but she's a bit busy, and she can't deal with her outfits for the upcoming fashion events. Here is where your helping hand is needed in the Supermodel Fashion Lookbook game for girls. Get started with this brand-new celebrity dress up game, become Gigi's personal fashion adviser, and see what stunning looks you can put together for our gorgeous supermodel. In this girl's games, she'll be attending a fashion show, a music awards, and she's also going to hang out with her friends.
Thanks to her job, Gigi's wardrobe is full of the trendiest outfits from the most famous designers around the world. You will have a great time browsing through all those designer clothes, stunning high heels, and diamond jewellery. But let's start with the first event on Gigi's busy agenda which is a glamorous fashion event. She's going to sit next to Anna Wintour at the Chanel fashion show, and she needs to look at her best. So what should she wear? There are fancy little black dresses to choose from, sequinned jumpsuits, bandage dresses, and well as evening long dresses with cut-outs that are going to look awesome on her supermodel body. Select your favorite dress for Gigi Hadid, then match your selection with designer high heels, jewelry, a clutch bag, and a new hairstyle! Great job, ladies! Wondering what's coming up next?
The second event on Gigi's agenda is going to take you to a music awards. What should she wear on this occasion? There are chic blouses and crop tops to choose from, there are snakeskin printed shorts and leather skirts available in her wardrobe, so mix and match them as you wish and put together a jaw-dropping look for our famous girl. Next, accessorise the winning outfit with stilettos or metallic boots, cool sunglasses, and a colorful hairstyle. After these glamorous events end, she would want to spend some time catching up with her BFFs, so you get to challenge yourself again and create another outfit for our hot supermodel. Dress her up in a chic pair of jeans and a printed t-shirt, pull her hair in a ponytail, and complete her look with your favorite pair of sneakers.
Have a great time finding three cool outfits for these events in this online fashion game for girls called Supermodel Fashion Lookbook!
Game Controls
Use your mouse to interact.
Similar Games
Here are three more FREE Celebrity Games you should check out: