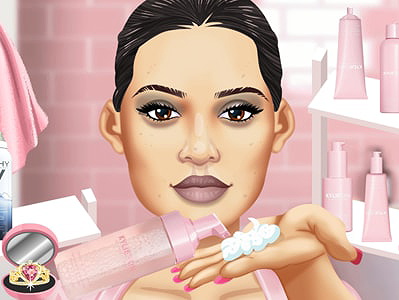 Playing Kylie Jenner Beauty Routine on Prinxy
The story about Kylie Jenner Beauty Routine
Believe it or not, Kylie Jenner's beauty regimen involves the use of basic products, and even if she has access to an arsenal of beauty products, she likes to keep it simple. Care to discover more about it? Come and play the Kylie Jenner Beauty Routine makeover game for girls online at Prinxy.app and learn from this young beauty mogul how to keep your face clean and glowing in only a few easy to follow steps.
In this online celebrity game for girls, you are going to find two of Kylie's beauty routines. At the beginning of the game, she'll teach you how to take care of your complexion after a long day, and then she's going to share with you some of her makeup tips and tricks. What is important to keep in mind is that it is not the products themselves that ensure a radiant complexion, but a daily care routine. You should never skip it!
Kylie Jenner brings her daily beauty routine in this online game for girls, and you ladies can't miss the beauty tutorial you can find in it. So are you ladies ready to discover some of her beauty tips and tricks? Join the famous beauty mogul in getting started with this online beauty game for girls and begin by completing all the steps of her evening beauty routine. Wash her face with delicate foam and then use her favorite walnut face scrub to remove the dead cells on her face. Never replace a drugstore face scrub with dry ingredients that you can find in your own kitchen. While they do remove the dead cells on your face, they are too abrasive, and they can harm your complexion. Next, moisten a cotton disc with a few drops of vanilla milk toner and gently whip it all over her face. This procedure will remove any remaining products on her face. Great job, ladies. Apply the vitamin C serum next, a light moisturiser, and an eye cream that will deal with the dark circles under her eyes. That's all! With 7 basic products, her complexion is clean and ready to regenerate overnight. Next, let's discover her makeup routine as well!
On the next page of this online makeup game, you can learn how to get your natural-looking makeup look just like Kylie's. Simply apply the beauty cosmetics in the right order, and help Kylie Jenner deal with her daily makeup look. Have you noticed that she moisturises her face and lips before anything else? Hydration is the basis of makeup with a natural finish, so don't forget to sprinkle water mist all over your face and to apply a bit of lip balm before applying the other cosmetics. Are you ready for some more?
Now, how about a celebrity dress up session? Go on and choose a cool outfit for this beautiful reality star. In this Kylie Jenner dress up game, you will find lots of chic clothing pieces in lovely pastel colors. Select the ones you like the most, put them in jaw-dropping combos and dress Kylie Jenner up as you wish. Don't forget to accessorise her outfit for a complete look!
Have a great time playing the Kylie Jenner Beauty Routine game for girls online at Prinxy.app!
Game Controls
Use your mouse to interact.
Similar Games
Here are three more Celebrity Games you should check out: