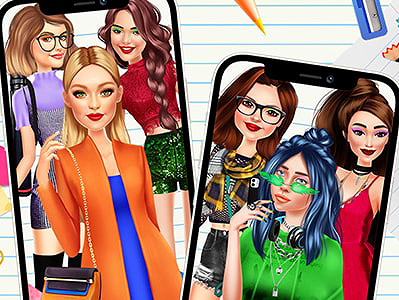 Playing Highschool Mean Girls 2 on Prinxy
The story about Highschool Mean Girls 2
The mean girls are back to school, and this time they bring a brand-new fashion challenge for all our little fashionistas! It's a fashion battle that this year is between supermodels and singers, but only one group will become the queens of the high school. Are you ready to discover who will be our high school queens? Then get started with the Highschool Mean Girls 2 dress-up game for girls and help each girl look at her best in this free-to-play fashion challenge!
The Highschool Mean Girls 2 is a sequel to our popular game Highschool Mean Girls. In the first game of this dress-up series, you got the chance to dress up Barbie and five of your favorite Disney characters. The fashion battle was quite fierce, but this time we made it even funnier. In this brand-new dress-up game, the protagonists are 6 beautiful celebrities, both singers and supermodels. Are you ready to meet them?
In the Highschool Mean Girls 2, we're starting the styling challenge with the team of supermodels. Gigi Hadid, Lucy Hale, and Kendall Jenner are the gang of three fighting for the title in this online celebrity game for girls, but the first one you get to dress up today is Gigi Hadid. Her wardrobe is ruled by the latest fashion trends, and it includes stunning neon colors and plenty of designer accessories available at your disposal. Browse through them all, mix and match your favorite pieces into a jaw-dropping school outfit, and then be ready to discover Lucy's girly-girl school wardrobe next. Teen Lucy has an artist's soul, and this reflects even in the clothes she wears daily. Her favorite pieces come in simple shapes and are accessorized with bows, white collars, or buttons in cute shapes. Pick the loveliest outfit for Lucy Hale, and then make sure to complete her artist look with a daring makeup look and some oversized eyeglasses. The third supermodel coming to complete our trio of supermodels is the stunning Kendall Jenner. Mix and match your favorite crop top with some sequined shorts or with a pleated midi skirt, and then complete her high school with a new hairstyle and the right accessories! Great job, ladies!
Next, we are meeting the three celebrities to form the team of singers. Selena Gomez, Billie Eilish, and Ariana Grande are waiting to get their looks ready for the high school fashion challenge, hurry up and peek through their wardrobes. The first singer you are going to dress up in our online celebrity game for girls is the lovely Selena Gomez. Dress her up in a bright yellow dress or a playful printed one. Then complete her look with a curly hairstyle and the right accessories. The next in line to discover your fashion tricks in the Highschool Mean Girls 2 is Billie Eilish. This singer's wardrobe stands out through her unique selection of clothing pieces where loose, oversized items and abstract prints rule everything. Choose the winning look for her, and then complete it with some of Billie's signature accessories. It can be a thick silver chain, vintage sunnies, or on-ear headphones. The third singer coming to complete this trio of singers is none other than Ariana Grande. We know she's one of your favorites, so we had to feature her in this celebrity game for girls. In Ariana's school wardrobe, you are going to discover a feminine selection of dresses, cropped tops, and plaid skirts that will help her stand out. Decide on the winning look and then complete it with a bright makeup look.
Next, capture a picture of your creation, wait for the voting system to finish the counting, and see who won the fashion battle. Have a great time playing the Highschool Mean Girls 2 game for girls online at Prinxy.app!
Game Controls
Use your mouse to browse through all the options in this online game for girls.
If you like this game, you can also try other School Games by Prinxy.app: