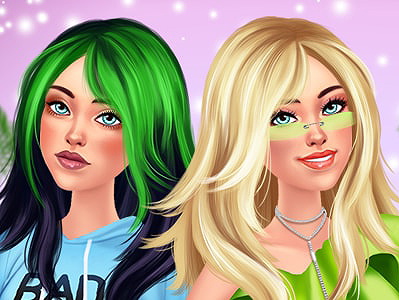 Playing Billie Blonde Transformation on Prinxy
The story about Billie Blonde Transformation
Billie Eilish's new look took over the internet during the last weeks, and all the craze around the news inspired us to create this fun makeover game for girls that covers the transformation process. In the Billie Blonde Transformation game, you girls join Billie's personal hairdresser and help together you transform her neon green roots and black lengths into a creamy ice blonde. Are you ready to get started with Billie's total transformation process?
Then let's join your favorite singer in getting started with this free-to-play celebrity game for girls called Billie Blonde Transformation, and step by step, bleach Billie's dark hair getting it a platinum blonde look. Next, you can help Billie embrace her new, simple 'do and recommend new outfits for our gal. But first thing first, we are going to start with the hair task. Of course, this major transformation requires a lot of patience and many great products, but as you'll discover next, bleaching has never been easier. Start by applying the magic product on her neon green roots and black lengths, let it work its magic for a couple of minutes, and then wash it off. Continue playing our hair game and apply blonde hair color next, wash dye with a delicate shampoo, and some sprinkles of leave-in conditioner. Blow-dry Billie's new blonde hair locks, and then get ready to discover the next task in our cool celebrity game for girls!
It's makeup time next! Since changing the color of the hair was a major step for her, Billie will stay true to her minimalist makeup for the next period, and she challenged you to do it for her. In our Billie Eilish makeup game for girls, as Billie's makeup artist, you get to recreate Billie's signature makeup look as step-by-step you glam her eyes and lips. Keep her skin clean, use natural colors on her eyes and lips, and highlight her lashes with black mascara. Billie loves a wet lip, so after applying the nude lip liner, apply nude lipstick all over her full lips. She looks so pretty with her pinkish makeup look and sun-kissed hair locks, don't you agree?
Now let's find her a brand-new outfit. Billie is known for her non-conformist clothes that are often long and baggy, but today she's going to surprise you with a brand new look. Are you ready to take a peek through Billie's new wardrobe? This third level in our online Billie Eilish dress up game is going to take you by surprise. We've gathered the cutest, girly-girl clothes on the runways, and we challenge you to dress up Billie Eilish in feminine lines, cute colors, and pretty accessories. Browse through the wide selection of clothing pieces and accessories, mix them as you wish, and put together an outfit of the day that will perfectly complete Billie's transformation process. When you're done, snap a picture of your creation and share it with your friends!
Have a great time playing the Billie Blonde Transformation game for girls online at Prinxy.app!
Game Controls
Use your mouse to browse through all the options in this online game for girls.
If you like this game, you can also try other Celebrity Games by Prinxy.app: