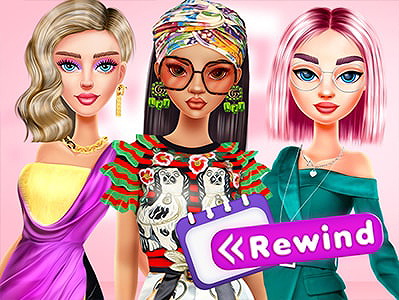 Playing Prinxy Dress Up Rewind on Prinxy
The story about Prinxy Dress Up Rewind
Are you looking for a brand-new dress-up game to play today? Then look no further! We bring a super cool girl game called Prinxy Dress Up Rewind, where you ladies can create 12 unique looks for your favorite supermodels, princesses, and some well-known Clony characters. Are you ready to dive?
But before you start practicing your amazing fashion skills, let me tell you more about this fantastic game for girls. In the Prinxy Dress Up Rewind, we featured all your favorite games from 2021. It's been a great year for fashion, and in it, you are going to find a bit of everything. From the titles inspired by the trending TikTok fashion to holiday-themed games, our exclusive fashion game is going to keep you entertained for hours. Now let's get it started!
The first character you are going to dress up is one of your favorite Disney princesses. Our dress-up rewind series starts with gorgeous Belle from My Perfect Year Planner. You are dressing her up in fashionable ski gear and cool accessories that will help her hit the slopes in style. You can also choose something girly and chis for our girl and snap some pictures she can post on Instagram later on.
Going forward, we'd like to challenge you to play the Chinese New Year game next. It's been a year since you and Mulan went to China to celebrate the Year of the Ox. Do you remember her selection of traditional outfits such as cheongsams and qipaos but with a modern twist? Browse through them again and pick your favorite once again. Then accessorize the chosen outfit with elegant shoes, embroidered purses, statement jewelry, and vintage hand fans. Are you ready to continue our selection with another princess game?
The Easter Glamping Trip game comes next, and it brings in front of us Frozen Anna and her enviable wardrobe. In this game, Anna is celebrating Easter the Norvegian way, right in the middle of nature. Join her again, and as her personal fashion adviser, you choose from an impressive collection of bohemian dresses, embroidered tops, knitted blouses, jeans, shorts, and Aztec printed overtops. Go through all the options available at your disposal, and pick the perfect outfit of the day. Then check the wide selection of accessories as well, and choose the ones you like the most to complete the princesses glamping look: earrings, bracelets, shoes, straw hats, bunny ears, and flower crowns are some of the options available in this dress up game for girls. Great job, ladies! Are you ready for more?
Then be prepared to discover our hit game TikTok Trends: Boyfriend Fashion. This TikTok game features Elsa and Rapunzel, but today you will dress up Queen Elsa. The Frozen sister gave up her royal gowns to replace them with a chic selection of boyfriend-inspired clothing pieces and accessories. So let's see what options you have at your disposal as you and Elsa have gathered for a unique styling session. There are boyfriend t-shirts and shirts that can work as comfy chic dresses, there are boyfriend jackets that can complement a feminine dress, and a selection of lovely crop tops that can match some sweatpants pulled out from a boyfriend's wardrobe. Have Elsa try all the items you fancy the most, pick the winning outfit and match it with sneakers, boots, and golden chains or oversized sunnies. Don't stop here!
Embark on a fancy yacht and head to France. Here you get to work your fashion skills on one talented dancer, Esmeralda. She's a beautiful Romani street dancer that we featured in the Princess Homeland dress-up game for girls. Gorgeous floral printed dresses, ruffled tops, flowy midi skirts, and gold jewelry that are her signature items are some of the things that rule Esmerlanda's wardrobe. Mix and match them as you wish, and put together a jaw-dropping look for her as well. Then complete it with a wavy hairstyle.
Do you remember the wedding of the year? It took place in June when miss Ariana Grande looked absolutely stunning on her wedding day. Let's do it again! From the game called Ariana Wedding Prep, we brought Ariana's gorgeous selection of bridal dresses and some of the most stunning accessories you've ever seen. As we know, Ariana opted for a super simple white dress on her wedding day, but in our celebrity dress-up game, you will find such a great variety. Have her try all your favorite dresses, and then pick the winning one. Accessorize it with sparkling jewelry, heels, a lacey veil, and a flower bouquet.
Continuing, you're joining princess Aurora from the Summer Aesthetics game. Barefoot in the garden flooded by a perfect golden hour, you and Aurora are going to have the best time ever. Run your fingers through her fashionable wardrobe inspired by the Cottagecore aesthetics and see what lovely outfit you can pick for Aurora's backyard photo session. Next, you're challenged to put together a jaw-dropping red carpet look in color block fashion. Yes, you've guessed it: our Prinxy Dress Up Rewind game wouldn't be complete without a colorful dress-up session from the TikTok Trends: Color Block game.
Can you guess which was our favorite game in September? After long discussions, we decided to surprise you ladies with a cute reminder from the Summer Festivals Fashion. Our gorgeous girl Emma went to the Coachella festival. Here you can play with her bohemian clothing pieces and accessories and recreate her party looks again. Moving forward, you can join our rock girl from the TikTok VSCO Girls for another fun dress-up session. Look through Arya's impressive selection of crop tops, shorts, jogger pants, denim jackets, and hoodies, and create a stunning outfit for our cute VSCO girl. Are you ready for more?
Coming up next is last year's most fashionable dress-up game. Did you get the chance to play Prinxy House Of Fashion so far? Loaded with supermodels, lots of designer clothes, and accessories, this online dress-up game is a piece of art you shouldn't miss. Here we've featured Riri, our beautiful Clony girl, and her selection of head-to-toe printed outfits. Find the best one for her. Last but not least, we have the K-pop New Year's Concert 2, a dress-up game that brings up Kiki and her stunning collection of K-pop fan outfits. Help her choose the right one to wear at the BlackPink concert.
Have a great time playing the Pinxy Dress Up Rewind online at Prinxy.app!
Game Controls
Use your mouse to browse through all the options in this online game for girls.
If you like this game, you can also try other Fashion Games by Prinxy.app: