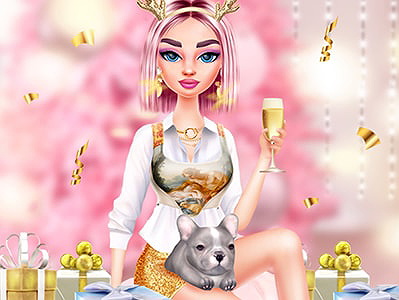 Playing Kiki's Pink Christmas on Prinxy
The story about Kiki's Pink Christmas
Christmas Day is almost here, and gorgeous Kiki is going to celebrate it with family and dear friends! She already decorated her house for the holiday season, but a few details were left uncovered that would need your expert advice. Come and help her deal with her festive looks by getting started with the Kiki's Pink Christmas dress-up game for girls!
Our pink-haired gorgie has four looks in mind for the upcoming winter holidays, and you ladies get to pick each of them but not before you get to know Miss Asia. She is one of the most fashionable French Bulldogs on the Internet and Kiki's beloved pet. Hope you are ready to join the fun! Kiki and Miss Asia are already waiting for you in their cozy living room decorated with a gorgeous pink tree, stuffed toys, and sparkling lights. Everything the girls want to do on this quiet Christmas morning is to chill out near the tree and open their presents, so a comfy-chic outfit is everything Kiki needs. A loose crop-top with a themed print paired with some loose sweatpants, a striped jumpsuit, or a silky slip dress are some of the options I would consider for Kiki's gifts opening session. Then complete her look with a lovely makeup look and some accessories.
It's time to move to the kitchen next. The gingerbread is in the oven, and some tasty cupcakes are waiting to be frosted in colorful icing and sprinkles, but Kiki needs to deal with her fashionable kitchen outfit first as you continue playing our free-to-play dress up game for girls. So, come and join her in her kitchen and help her pick her outfit for the next cooking session. There are lots of fashionable tops and bottoms available in her wardrobe for you to choose from. They are VSCO inspired, so don't be too surprised to find an impressive selection of t-shirts in tie-dye prints, leggings, Christmassy printed shorts, cardigans, and hoodies available at your disposal. Mix and match them into a colorful kitchen outfit, and then don't forget to also check out the selection of accessories that will perfectly complete her look. There are cute aprons with Christmas prints on them, bonnets, and kitchen tools as well.
Next, continue playing this Christmas-themed fashion game with a new challenge. This Christmas, Kiki will host the festive dinner, and she needs your help to make it perfect. Can you help her decide on the outfit she should wear tonight? Browse through the impressive selection of elegant dresses, jumpsuits, kimono shirts, silky skirts, and wide-leg pants, mix and match them as you wish and pick the best outfit for our Clony girl. Complete the chosen outfit with golden jewelry and, then don't miss the chance of dealing with her festive makeup look, too! In this online Christmas makeup game for girls, you can choose from natural, glam, or bold makeup styles the one you like the most for our girl.
Are you ready for one more dress-up game? The morning is snowy, so Kiki is taking Miss Asia out for a walk. Get them both ready for a day out in the snow! Continue playing our exclusive winter game, check out all the options and pick Kiki's winter outfit. Choose a colorful ski suit, or mix and match a loose knitted blouse with a tutu skirt or with a pair of jeans. Gloves and a hat are a must during these chilly days, so pick some to match her outfit.
Have a great time playing the Kiki's Pink Christmas dress up game for girls online at Prinxy.app!
Game Controls
Use your mouse to browse through all the options in this online game for girls.
If you like this game, you can also try other Christmas Games by Prinxy.app: