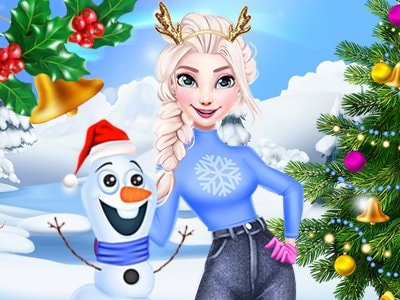 Playing Frozen Christmas: Extreme House Makeover on Prinxy
The story about Frozen Christmas: Extreme House Makeover
With the last autumn holidays over, Queen Elsa is now ready to start transforming her house into a real winter wonderland! This year she got her hands on some of the cutest Christmas decorations, and now she can start redecorating for the winter holidays. Care to join the fun? In the Frozen Christmas: Extreme House Makeover game for girls, you help Elsa bring pieces of Arendelle into this frozen wasteland while you two ladies decorate Elsa's house for Christmas. Have fun doing it!
It's never too early to start decorating for Christmas, don't you agree, girls? Then let's get to work, but not before helping Queen Elsa choose her cozy winter outfit first. In Elsa's winter wardrobe, you are going to find many cozy sweaters, miniskirts, jeans, and even some colorful knitted dresses to choose from. Dress her up in your favorite winter outfit, and then pair your selection with a fluffy scarf, with gloves, or even with cute Christmassy hair accessories. Are you still looking for the shoes? There aren't any! This winter, Elsa is committed not to let a day pass by without going ice skating with her BFFs! In this online dress up game for girls, you are challenged to pair Elsa's daily outfits with trendy ice skates. Great job, ladies! Are you ready to prove your designer skills next?
Then grab a coat to keep you warm and join Elsa outdoor. It's time to give Elsa's house a Christmas makeover! Sounds like fun, huh? We already prepared everything you need for this fun activity. You can start playing with them and come up with an extreme Christmassy makeover for Elsa's house. Browse through the category tabs available on the right side of your screen and pick from a wide variety of handmade holiday wreaths, colorful lights, trees, and other themed decorations the ones you want to use. Well done! Are you up for another decoration task? Next, head to the ice ring and help Elsa beautify this place as well.
Elsa's preparations for the upcoming winter holidays wouldn't be complete without her decorating a Christmas tree. Return home and together complete this new designer task on Elsa's to-do list. There are many tree ornaments available at your disposal in this decoration game for girls, and you can use literally everything you like. Browse through them all, and pick from an impressive selection of shiny globes, red and white candy canes, homemade gingerbread, colorful lights, and even garlands the ones you like the most. Don't forget to also choose a nice stack of beautifully wrapped gifts that you can put under the Christmas tree.
Last but not least, choose a festive look for Olaf, Elsa's faithful friend. The funky snowman could surely use a new outfit for the winter holidays. Have a great time playing the Frozen Christmas: Extreme House Makeover game for girls online at Prinxy.app!
Game Controls
Use your mouse to interact.
Similar Games
Here are three more Christmas Games you should check out: