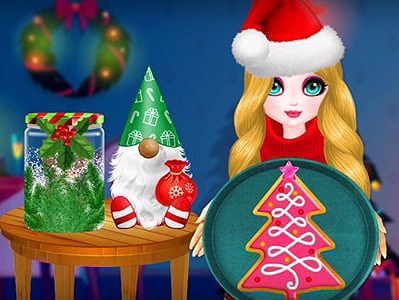 Playing Princess Magic Christmas DIY on Prinxy
The story about Princess Magic Christmas DIY
Christmas is approaching really fast and if you still need some gifts to surprise your loved family and friends with this holiday season, then make sure you take a closer look at the Princess Magic Christmas DIY game for girls. Handmade gifts are very much appreciated this year, and with the right guidance, you can surely come up with some exquisite gifts. Are you ready to start making some?
Come and join our adorable princess in this fun holiday game for girls called Princess Magic Christmas DIY, and one by one, discover all her unique ideas you could turn into statement gifts. The first item you will be making today is a Christmas lamp. Mix cornmeal and shaving foam to make artificial snow, and then follow our girl's step by step instructions to make the jar lamp. When you've done, choose a Christmassy topper, and your special lamp will be ready to lighten up your favorite room in the house. Great job, ladies! Are you ready for the sweet task we've prepared next?
Christmas wouldn't be complete without a batch of freshly baked cookies, so next, we're making some delicious gingerbread cookies. The next cooking game is inspired by a German recipe and is surely the best recipe you could try. These gingerbread cookies are moist, simply delicious, and make the best holiday treats. Bake the tree-shaped cookies in the oven, decorate them with green and white icing, and don't forget to finish your cookie decoration session with some colorful sprinkles.
And finally, our princess will teach you how to give the old things a new life. Did you ever imagine that you can use old old socks to make stuffed toys? Today, we are making a Christmas gnome but you could make so much more! Simply glue the parts together, and complete your creation with a big beard and a tall hat. That's it! You've got three unique gifts that will surely make a good impression.
Have a great time playing the Princess Magic Christmas DIY game for girls online at Prinxy.app!
Game Controls
Use your mouse to interact.
Similar Games
Here are three more Christmas Games you should play next: