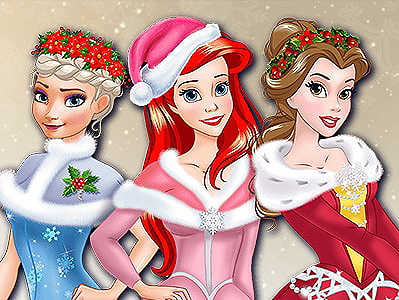 Playing BFFs Princesses Christmas on Prinxy
The story about BFFs Princesses Christmas
Merry Christmas, dear girls! You will surely agree Christmas is the happiest holiday of the year! It's a magical time to be surrounded by joy, family, and friends. In the BFFs Princesses Christmas game for girls, you are going to find three Disney princesses who love Christmas very much. They always gather for the winter holidays and have a blast together, and this year makes no exception. Will you help them prepare to celebrate Christmas in style?
Get started with this online holiday game for girls, and begin their preparation for the winter holidays with a challenging decoration task. With only a few days left till Christmas Eve, they decided to wrap the gifts they are going to exchange between them, and here is where you can help them out. Are you ladies ready to deal with this first challenge they prepared for you? In this online Christmas decoration game, you are going to find everything you need to give their gifts a festive look. Choose from a wide variety of holiday-themed wrapping papers and bows your favorites, and beautifully wrap a unique gift for each princess. Once you've done this creative task, you can then go on and prove your fashion designer skills, too!
Next, you are challenged to help Ariel, Belle, and Elsa choose their festive looks for the upcoming Christmas party! Continue playing this online dress up game for girls, browse through their royal wardrobes, and help each princess find her best dress and statement accessories for the event! For Belle, you can choose either a gorgeous blue dress that highlights her perfect shapes, or you can pick a classic red dress with white faux-fur trim around the corset. For Elsa, you can choose her signature blue dress, or you can take her out of her comfort zone and surprise everyone with a jaw-dropping look. An elegant one-shoulder dress with golden details will make a surprising choice, don't you agree? Don't forget to accessorize Elsa's final dress with a stylish hairstyle and sparkling jewelry. Last but not least, see what fancy party look you can put together for princess Ariel, as well!
Have a great time playing the BFFs Princesses Christmas game for girls online at Prinxy.app!
Game Controls
Use your mouse to interact.
Similar Games
Here are three more Christmas Games you should play next: