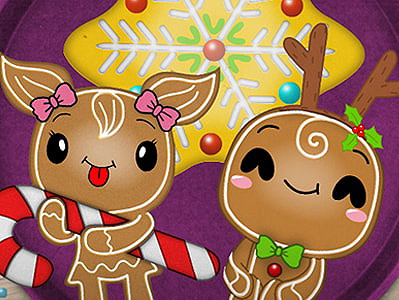 Playing Christmas Gingerbread Coloring Game on Prinxy
The story about Christmas Gingerbread Coloring Game
We at Prinxy.app believe that no Christmas baking is complete without homemade gingerbread cookies. We are about to start making our own yummy gingerbread cookies but not before treating you guys with an online gingerbread coloring game for girls! In the Christmas Gingerbread Coloring Game, you are challenged to put your pastry skills to the test, color some freshly-baked gingerbread cookies, and give them a festive look just in time for the winter holidays! Are you ready to join the fun?
In this online cookie decoration game, you are going to find five holiday-themed gingerbread cookies. Our talented chef baked them this morning, she decorated them with a sparkly white mantle frosting, and now they just need the final touch. And here is where you, little artists, step in! Our selection of gingerbread cookies includes the traditional reindeer cookie, a perfect snowflake, a star, and even a beautifully decorated bell. Pick your favorite holiday treat, and then start coloring it with your favorite shades. Next, use a brush or a dropper, select your favorite colors, and color the chosen gingerbread cookies as you wish. You can keep it classic and color the cookies in red, green, and some white. Or you can be creative and mix pastel colors with bold colors. When you've done coloring your cookies, simply snap a picture of your creation and share it with your friends!
Have a great time playing the Christmas Gingerbread Coloring Game for girls online at Prinxy.app!
Game Controls
Use your mouse to interact.
Similar Games
Here are three more Holiday Games you should play next: