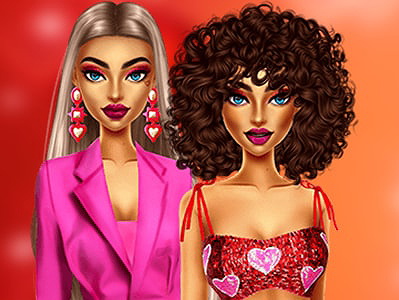 Playing Love In Style on Prinxy
The story about Love In Style
Get ready to celebrate the most romantic day of the year with our brand-new game for girls called Love In Style! This fun and exciting dress-up game is all about getting our girl ready for Valentine's Day. Help her choose fashionable kitchen outfits for baking something sweet for her boo, then dress her up for her romantic date! Have a blast playing Love In Style online at Prinxy.app!
Valentine's Day celebrates love and romance, so we created the perfect holiday-themed game to get you in the mood for your date. Love In Style is loaded with lots of fashionable outfits in white, pink, red, and fuchsia and sparkling accessories that will help you create three unique and romantic at the same time looks for our girl. Get started, browse through them, and make your stunning looks!
A colorful kitchen outfit is the first look you get to choose for gorgeous Anastasia in this fashion game for girls. She plans to surprise her boo with something sweet today, but before stepping into the kitchen, she wants to find a comfy chic outfit for her baking session. Look out for the perfect combinations of tops, bottoms, and accessories to make our girl look her best. Tie her hair in a playful ponytail, and then don't forget to select a girly-girl apron to keep her kitchen outfit clean. She looks awesome! Are you ready for some more? Let's see what a romantic date look you can put together for her!
Bare in mind she will need two amazing date looks today, one to fit a coffee date and the second to make a good impression at the romantic dinner. So, let us start with the first date look! The clothing pieces and accessories we prepared at your disposal in this Valentine's Day dress-up game for girls challenge you to create a cute casual outfit in pink and fuchsia shades. Put together a candy-colored crop top blouse with playful cutouts, pink cargo pants with or a pair of denim flared pants with heart prints, combat boots in light pink, and a fuchsia purse with heart detail. Accessorize with pink heart-shaped earrings for a stunning romantic look.
Continue playing our online fashion game and take the challenge of crafting a glam outfit for her romantic dinner date. Anastasia's second outfit must be a mix of fuchsia and red. Browse through her selection of mini dresses with romantic bow details and select your favorite to dress her up with. Then find the perfect pair of pumps to complement her dress and accessorize the winning look with golden heart-shaped earrings and a chic small-sized purse. Let your creativity run wild and create stunning looks for the girl!
Have a wonderful time playing the Love In Style game online at Prinxy.app!
Game Controls
Use your mouse to browse through all the options in this online game for girls.
If you like this game, you can also try other Valentine's Day games by Prinxy.app: