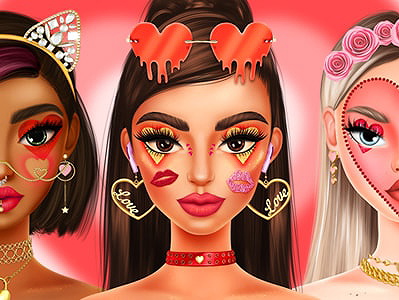 Playing Valentine's Makeup Trends on Prinxy
The story about Valentine's Makeup Trends
Celebrate Valentine's Day in a brand-new fashion this year. Get yourself a candy-pink makeup look, sprinkle it with glitz and beads, and be prepared to wow your date or social media followers with an adorable holiday look in candy-sweet colors. Get your inspiration from our beautiful fashionistas while playing the Valentine's Makeup Trends game for girls online at Prinxy.app!
So let's see what your options are. Get started with this free-to-play holiday makeup game, and be ready to discover three unique makeup looks that will get lots of wows this Valentine's Day. Whether you decide to celebrate this day with your loved one or alone with our amazing girls and their cool makeup ideas, you are going to make the most of it. Plus, it's another chance for you to impress with your makeup skills, and we made sure you're getting the best cosmetics and face gems in the Valentine's Makeup Trends game. Are you ready to take a look?
The first influencer who is going to teach you some of her makeup tricks is beautiful Rose. This is your first time getting to hang out with Rose, and we are sure you are going to love her. Rose is one crazy rich Asian who turned her love for makeup into an online empire. Nowadays, she creates short makeup videos on TikTok, and for extra beauty tips and tricks, she organizes online beauty masterclasses. Together with Rose, you're creating Valentine's special makeup look that features lots of rosy shades and heart-shaped designs. But not before you properly prepare her complexion for the sophisticated makeup session. Apply the right toner and moisturizer on her face, and then discover the options prepared for Rose's super sweet makeup look. The eyeshadows come in a wide variety of red, pink, and yellow shades that you can mix in various combinations. Then you can continue with your makeup task and design a big heart on her face that you can color in any shade you want. Complete the drawing with sparkling face gems, and then finish your Valentine's special makeup up the look by selecting the right faux-eyelashes for our girl. Are you ready for some more? Join Ashely next!
Ashley is also new among our Clony girls. This Valentine's Day game marks her entrance into our glamorous world of influencers, makeup artists, fashion designers, and more. Ashley's passion for cool makeup looks started when she was in high school. Now she studies to become a successful game designer, but from time to time, she loves to pick up her makeup brushes and create stunning looks for her face. For this Valentine's Day, she's going to go big with hearts shaped shadows around her eyes and on her cheeks. Come and help her recreate a jaw-dropping look as you browse through all the makeup options and colors available in Ashley's makeup kit. Lip rings are her signature thing, so don't forget to pick some for a complete look. Are you ready to join Olivia, next?
Queen Olivia is still making waves on Instagram with the icy blue makeup look she recently created for you in our hit makeup game Prinxy Winterella. While going pink is quite a challenge for her, Olivia is super excited to show you what she's got for this. Come and help her out as you continue playing our beauty game for girls. With shimmering eyeshadow options, glowing highlighter options, girly-stickers, and TikTok trending accessories, Olivia's makeup look is screaming originality, and you're here to make sure it looks as sophisticated as she wants it.
Do you like the looks you got so far? The fun is far from over. Now you are challenged to go back and mix each makeup as you wish. Capture a picture of your creation, and share it with your friends. Have a great time playing the Valentine's Makeup Trends game for girls online at Prinxy.app!
Game Controls
Use your mouse to browse through all the options in this online game for girls.
If you like this game, you can also try other Valentine's Day Games by Prinxy.app: